Has Arya Stark reached the North? Game Of Thrones set photos tease a major reunion
Speaking about the reunion, Sophie Turner had earlier said, 'They're all carrying different motives now.'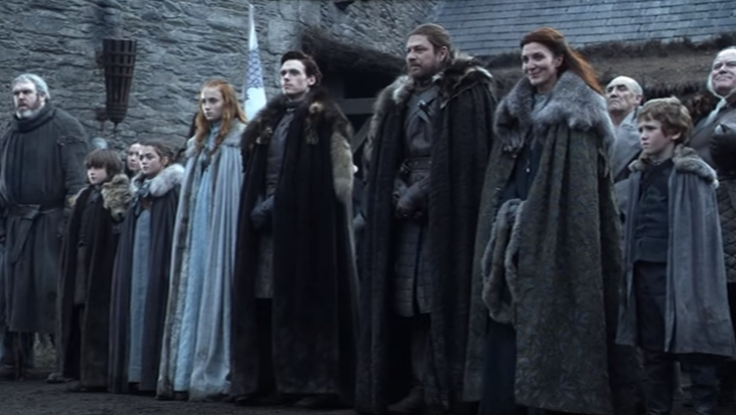 Filming for Game Of Thrones season 7 has just started gaining steam and eagle-eyed fans of the HBO show are already deducing major spoilers for the upcoming season. Dedicated fan-site Watchers On The Wall obtained some new set photos, and a loyal follower of the fantasy series will surely realise the connection between the photos that seem to hint on an epic reunion in season 7.
Warning: Major spoilers ahead, proceed at your own risk.
If the GOT set photos are any indication, Arya Stark might be heading to the North and considering Jon Snow, Bran and Sansa's current location, a grand Stark reunion might be on the cards in season 7.
The pictures obtained by WOTW, show Maisie Williams – who plays the feisty Stark girl – in Northern Ireland. While filming in the snow-clad location seems to be a major hint that Arya is back home, another Stark relative might be joining the faceless killer soon.
Lyanna Mormont aka Bella Ramsey's spotting in the same location as Williams' hints that the two might reunite in the penultimate season. Joining the family is another major character, Bran Stark, played by Isaac Hempstead Wright, who was photographed with Williams in the same makeup trailer.
While it's quite likely that Arya and Lyanna may cross paths in Game Of Thrones season 7, their costumes gave away further spoilers. Both were dressed in similar northern-style outfits in the set photos. Could this mean that Arya and Lyanna might join forces as they prepare for the great war against the Iron Throne?
Whether or not, their spotting surely hints towards an epic Stark reunion as Kit Harington was also reportedly spotted in the same location as Williams, Wright and Ramsey.
So if and when the Stark children finally unite to avenge their family's brutal death, the reunion might not be all emotional according to Sophie Turner. "A lot of dynamics will have changed. They all split up and were basically trying to get back together for so long, but they've all changed so much in the meantime. . It would be very interesting to see them back together now, but it wouldn't be the family dynamic that they're used to...maybe for better or for worse," she had earlier said.
© Copyright IBTimes 2023. All rights reserved.