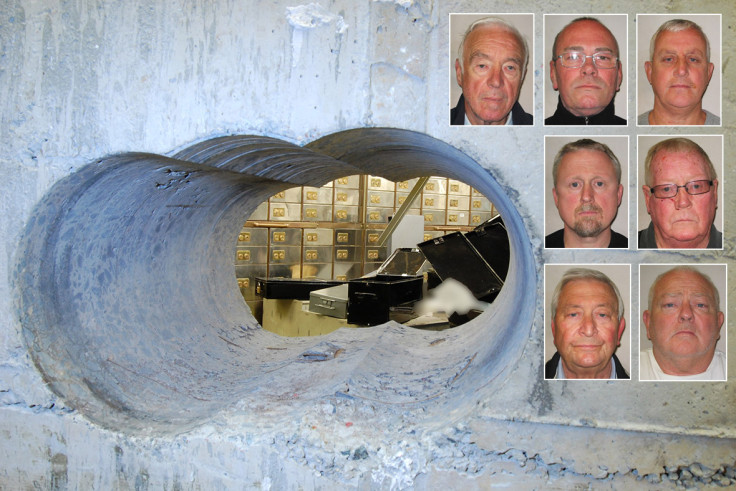 The gang responsible for carrying out the £14m Hatton Garden jewellery heist have arrived in court for sentencing without ringleader Brian Reader – who may have just "months to live". Seven men are facing years in prison after being convicted for their involvement in the burglary, which was described as the "largest in English legal history".
The Hollywood-style raid saw the gang use heavy cutting equipment to bore into a vault at the Hatton Garden Safe Deposit in London's jewellery quarter over Easter 2015. The two-day job, in April, saw the thieves make off with valuables worth £14m (€18m, $19.8m), including gold, diamonds and sapphires.
Six members of the gang arrived at Woolwich Crown Court on Monday (7 March) for the start of a sentencing hearing, which is expected to last three days.
Ringleader Brian 'the guvnor' Reader was not present due to health reasons and could be sentenced at a later date. Lawyers for the 77-year-old, who is currently in custody at Belmarsh Prison, said Reader recently suffered a stroke and "may not have many months to live". Having also suffered from prostate cancer, he had been admitted to a hospital close to the maximum security prison.
The judge said he would review the matter on 9 March, with a view to sentencing him later this month.
Sitting in the dock on Monday (7 March) were the remaining members of the gang, flanked by guards. Dubbed the 'Diamond Wheezers' due to their age, the group's four ringleaders John 'Kenny' Collins, 75, Daniel Jones, 59, Terry Perkins, 67, and the group's oldest member Reader pleaded guilty to conspiracy to commit burglary in September 2015.
Three other men were found guilty for their role in the heist during a trial at Woolwich Crown Court in January.
Hugh Doyle, 48, a self-employed heating engineer of Riverside Gardens, Enfield, was found guilty of concealing, converting or transferring criminal property. William Lincoln, 60, of Winkley Street, Bethnal Green, and Carl Wood, 58, of Elderbeck Close, Cheshunt, were both found guilty of conspiracy to burgle and conspiracy to conceal, convert or transfer criminal property.
An eighth individual, a red-haired man known only as "Basil" by the plotters, remains at large and is thought to have been instrumental in helping the thieves gain access to the vault. The Met Police, which recovered less than a third of the stolen loot, has offered a £20,000 reward for information leading to his arrest and the recovery of the outstanding property.
Two other individuals pleaded guilty in April 2015 to their part in the raid, admitting conspiracy to conceal, convert or transfer criminal property. Brenn Walters, also known as 'Ben Perkins', 44, of Manor Court, Enfield, and Terri Robinson, 35, of Sterling Road, Enfield, are due to be sentenced at the end of March.