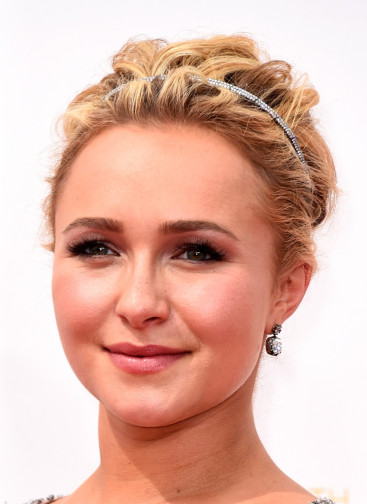 Weeks after opening up about her struggle with postnatal depression, Nashville actress Hayden Panettiere has checked into a treatment facility. In a statement to E! News the actress's representative confirmed that she was taking time out of the spotlight to seek professional help.
"Hayden Panettiere is voluntarily seeking professional help at a treatment centre as she is currently battling postpartum depression," her spokesperson said.
Panettiere first opened up about her traumatic experience back in September during an interview with Us Weekly. Offering solidarity and support to other women who may be in the same boat, she told the publication: "I suffered a bit of postpartum depression. You're not alone or crazy, ladies!"
The 26-year-old star, who welcomed daughter Kaya with boxer partner Wladimir Klitschko last December, discussed her darkest days further in a candid sit-down interview on daytime talk show Live with Kelly and Michael.
Drawing on her Nashville character's struggle with the condition, the pint-sized star said that she was keen to raise awareness about postnatal depression, which affects at least 1 in 10 new mothers. "I can very much relate," Panettiere said. "It's something a lot of women experience. When [you are told] about postpartum depression, you think it's 'I feel negative feelings towards my child; I want to injure or hurt my child.' I've never, ever had those feelings. Some women do."
She added, "But you don't realise how broad of a spectrum you can really experience that on. It's something that needs to be talked about. Women need to know that they're not alone, and that it does heal."
Stars including Stacey Solomon, Gwyneth Paltrow and Courtney Cox have all admitted to issues with postnatal depression.