Heathrow 13 avoid jail term following Plane Stupid runway climate change protest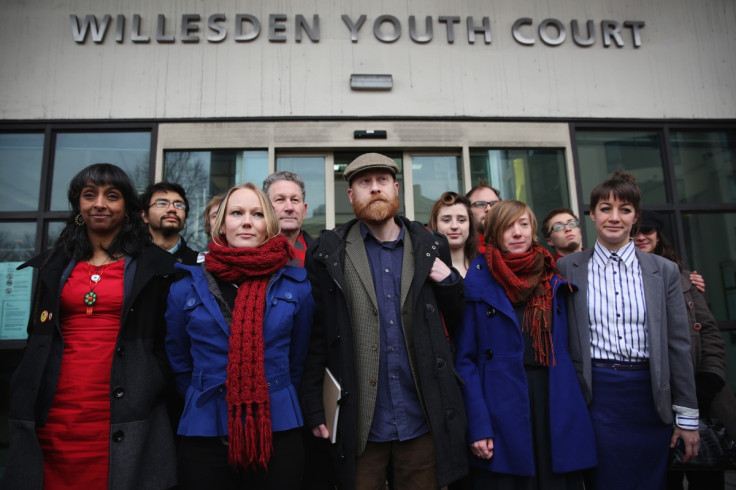 Activists who chained themselves to railings to at Heathrow Airport causing "astronomical" disruption in a protest against the proposed construction of a third runway have escaped jail. The so-called "Heathrow 13" were found guilty of being unlawfully airside and aggravated trespass following their demonstration as part of the Plane Stupid campaign against the extension on 13 July 2015.
All 13 have been given a six-week prison sentence suspended for 12 months. Had they been given a custodial sentence, they would have become to first people in the UK to be jailed for a peaceful climate change protest and the first since 1932 to be imprisoned for aggravated trespass.
The judge previously warned the Heathrow 13 it was "almost inevitable" they would be jailed for their protest, a decision Labour MP John McDonnell said would be "a disgrace".
During mitigation, District Judge Deborah Wright said while the financial and travel disruption as a result of the protest was "immense", she acknowledged the "genuine and excellent" testimonies in support for the 13 from high-profile names such as McDonnell and actress Sue Johnston.
The group gained entrance on to the runway in the early hours by cutting a hole through the perimeter fence and then chained themselves to a number of structures for several hours, resulting in the cancellation of 25 flights.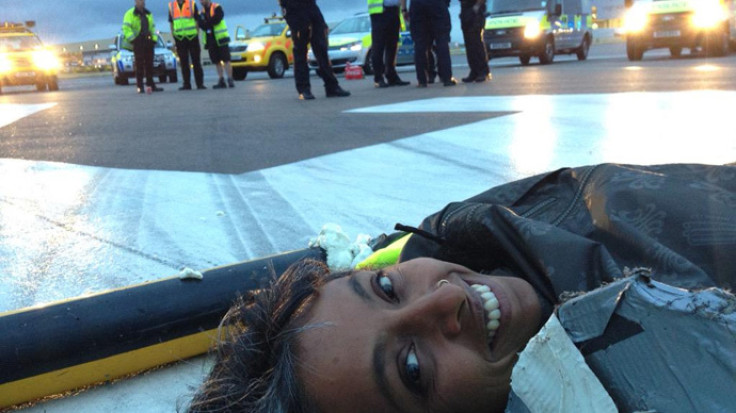 The demonstration was one of a number of protests by Plane Stupid members against the building of the third runway at Heathrow over concerns about how the rise in carbon emissions in the area will impact upon climate change. During the trial, the group argued that 31 people who live near to Heathrow will die prematurely because of the pollution it admits, as well as thousands more around the world.
Around 200 supporters, including shadow chancellor McDonnelll and Green Party MP Caroline Lucas, gathered outside Willsden court in Brent, North London, to show solidarity for the protesters. Lucas and McDonnell were among those who signed a wrote an open letter, published in The Guardian, arguing a jail term for the Heathrow 13 would "massive threat" to the right to peaceful protest in the UK.
In a statement prior to the sentencing, Lucas, the MP for Brighton Pavilion, said: "I think it's crucial that we stand up for the right for peaceful, non-violent action and it is also important to say that what they were upholding – ensuring policies are in line with our climate change commitments – could also scarcely be more important.
"We know that a massive expansion of aviation is going to make it impossible for us to keep within our carbon budgets in order to be able to avoid dangerous climate change. We have legal obligations to remain within certain limits of climate change omissions, and yet if we have a free-for-all on aviation expansion, that would be simply impossible to do.
"That's why the actions the Heathrow 13 rook are so important and why it's important we stand up for their right to have done that and also make sure we are not seeing an increasing criminalisation of peaceful protests."
The Heathrow 13
- Rebecca Holly Sanderson, 28 (10.01.88) of Newton Road, Machynlleth, Powys;
- Melanie Strickland, 32 (17.02.83) of Borwick Avenue, Waltham Forest, E17;
- Richard Steven Hawkins, 32 (29.01.83) of Heol y Doll, Machynlleth, Powys;
- Ella Gilbert, 23 (16.07.92) of Magdalen Street, Norwich, Norfolk;
- Danielle Louise Paffard, 28 (25.02.87) of Blenhiem Grove, Southwark, SE15;
- Graham Edward James Thompson, 42 (27.09.73) of Durlston Road, Hackney, E5;
- Robert Anthony Basto, 68 (13.09.47) of Blackborough Road, Reigate, Surrey;
- Kara Lauren Moses, 33 (25.10.83) of Heol y Doll, Machynlleth, Powys;
- Cameron Joseph Kaye, 23 (11.02.92) of Kenwood Close, Sipson, West Drayton;
- Edward Thacker, 26 (24.06.89) of Kenwood Close, Sipson, West Drayton;
- Alistair Craig Tamlit, 27 (16.05.88) of Kenwood Close, Sipson, West Drayton;
- Sheila Menon, 44 (22.10.71) of Pellerin Road, Hackney, N16;
- Sam Sender, 23 (25.01.92) of Kenwood Close, Sipson, West Drayton.
© Copyright IBTimes 2023. All rights reserved.