When it was announced that 2016's episodic Hitman would be heading to the US for its fifth episode, many had expected to visit an iconic setting: Times Square, the Kennedy Space Center, San Diego Comic Con. Instead, Agent 47's next mission takes place in rural Colorado.
It's not a location brimming with pop culture Americana, but it's fitting that the game's arrival in the US of A is joined by 47's biggest hit list of the season, and marks the point at which season one's story starts to escalate in anticipation of the forthcoming Japan-set finale.
At the end of episode four in Thailand, the ICA (International Contract Agency) worked out that it had been manipulated over the course of the season by a "shadow client" who has been leaking information to genuine clients in an attempt to manipulate the ICA and set up their own misdeeds.
Quite what their plan is isn't yet clear, but the ICA is intent on taking out the shadow client, or shadow clients. This means setting 47 on a mission of the agency's own design, breaking its impartiality rule. It leads the agency to Colorado where four targets are in the midst of preparing a string of attacks on the US.
Across the farm, the targets and those working for them are training for cyberattacks, heists and kidnappings. It's a very different kind of Hitman level to what we've seen so far this season. For one, there are no crowds, no members of the public, creating a more perilous atmosphere from the off.
It makes Colorado the most stealth-focused of the missions to date. There's little opportunity to wander around worry-free, scouting for potential opportunities and disguises to get 47 closer to his targets.
At Gamescom 2016 IBTimes UK was given a tour of the new location: an untidy and maze-like arena of makeshift structures, converted barns, abandoned animal paddocks, strewn crates and lazily-parked vehicles. If there's a focal point, it's the barn-house where one particular target awaits.
Episode four was set in an enormous luxurious hotel, an environment that followed a conventional logic. It made sense that the hotel workers would work out of the basement, that the kitchen would be near the restaurant, that garden staff would have a shed to work out of and that security would get tighter as you approached the more extravagant suites on the higher levels.
This new setting doesn't come packaged with the luxury of familiarity. It's an old farm converted by plotting terrorists. It's a map that will require greater scouting to map out who and what is where before making a move. The unconventional layout will make the new setting fresh, and should make for some excellent Elusive Targets.
The set-up for the mission also creates some fun showcase kills to be found. One we were shown – which we won't completely spoil – is spectacular, and involves a battering ram.
Episode five is offering something different to Hitman fans: an escalation in stakes and a more unconventional setting to explore and master. Ahead of the finale, for which expectations will be sky-high, that might be exactly what's required.
Hitman: Episode Five – Freedom Fighters launches on 27 September for PS4, Xbox One and PC.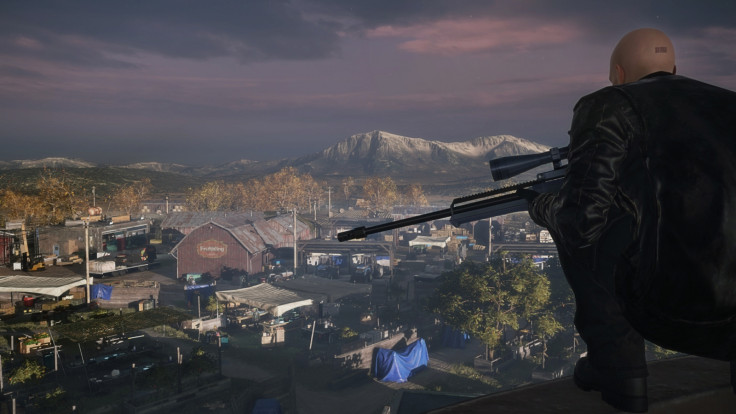 For all the latest video game news follow us on Twitter @IBTGamesUK.