Square Enix has announced that the next episodic mission for Hitman will launch on 31 May for PS4, Xbox One and PC. Episode Three: Marrakesh tasks Agent 47 with the assassination of two key targets in a bustling city mired by political tensions.
Publisher Square Enix included several screenshots alongside the announcement which show off the episode's glistening, trinket-filled Berber markets, dusty architecture and swarms of angry protesters incensed by the region's heightened military presence.
Presumably these same forces will ensure dispatching main target Army General Reza Zaydan is a tough, but hopefully fun, task. The "private investment banker" Claus Strandberg completes the pair of story-based hits although Square Enix is also promising Elusive Targets and Contracts as well as the regular Challenges and Opportunities to expand 47's to-kill-list.
Marrakesh is the third episode of the seven episodes set to launch throughout 2016 and follows the widely-lauded Sapienza instalment, which IBTimes UK heralded as "one of the series' finest missions to date" in our review.
Despite having a tough act to follow, the episodic Hitman experiment from developer IO Interactive has definitely been a success so far and hopes are high that Marrakesh will continue the positive trend which began with the excellent Parisian-set premiere back in March.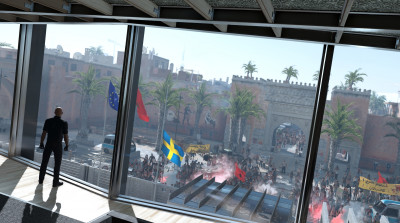 Hitman Full Experience Pack owners will be able to download Episode Three for free on 31 May, while Intro Pack buyers can either upgrade their package to include this year's remaining episodes or purchase the Marrakesh add-on for a one-off fee.
Square Enix has promised murderous trips to Thailand, the United States and Japan for everyone's favourite bold, barcoded killer throughout the rest of 2016, all of which will be included in the game's full disc release currently set for January 2017, where all of the digital content will be compiled into a complete retail bundle.