After Samsung famously killed off its Galaxy Note 7 smartphone when a battery issue saw handsets go up in flames the company appears to be in more hot water after it confirmed it has issued a recall of 2.8 million "exploding" washing machines. Here's how to check if your machine is at risk.
It's been an explosive year overall for Samsung (sadly for the electronics makers this is a literal statement rather than positive metaphorical marketing spiel) with more bad news continuing to beset the company after it was revealed some of its top-loading washing machines have been identified with a dangerous fault whereby excessive vibrations are causing lids to fly off.
While this is not related to a battery issue seen in its Note 7 issue, owners of a number of models in the US have reported 733 incidents of machines mechanically malfunctioning including occurrences of damaging property and causing injury. Samsung has officially confirmed a voluntary recall in cooperation with the US Consumer Product Safety Commission (CPSC) which has said "there are nine related reports of injuries, including a broken jaw, injured shoulder, and other impact or fall-related injuries".
Which Samsung washing machine models are being recalled and why?
If you own a top-loading Samsung washing machine manufactured between March 2011 and now it is strongly advisable to refrain from using it until you check it is safe. Front-loading machines are not affected and of the 34 recalled models these are all sold in North America. Samsung provided IBTimes UK with the following statement: "Samsung Electronics UK is aware of a voluntary recall announcement regarding issues with certain top-load washing machines sold in North America. We can confirm that this issue does not impact top-load washer models sold outside of North America".
The reason behind the fault is due to the drums inside the machines losing balance, triggering excessive vibrations, resulting in the top separating from the washer. A high-speed cycle, often used for bedding or bulky items, has been identified as a particular risk and could cause injury to customers.
How to check if your Samsung washing machine is a risk
Samsung has created an online help page (click here for link) to allow consumers to input the model and serial number of their machine. These 14 or 15 digit numbers can be found in two locations on the rear of the washer – at the top, behind the control panel, and further down on the right side.

Type this number into the check box on the website. If you can't access the online checker here's a full list of the recalled models.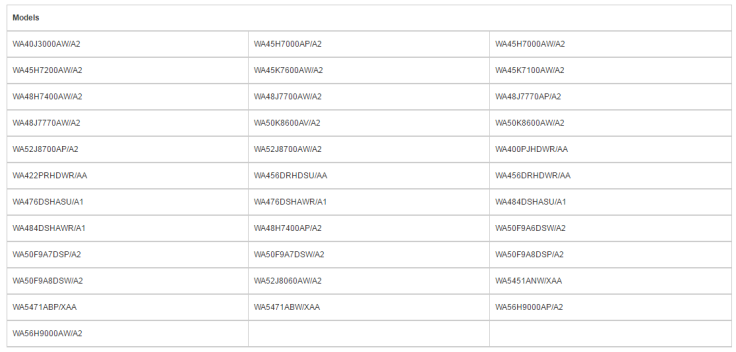 How the recall works
Customers who have a washer that is flagged for recall will get two options: either a free in-home repair that will reinforce the faulty lid, or a refund towards a new machine. Samsung states repaired machines will benefit from a free extended warranty of 12 months, while for refunds the amount refunded will depend on the age of the machine and the model number. Those who choose to opt for a refund and show their loyalty by purchasing another Samsung machine will receive up to $150 in addition. Anyone who purchased a recalled model within the last 30 days (from 4 November) will be entitled to a full refund.
What to do until it's repaired or replaced
Owners of affected machines are being advised to use only the delicate or waterproof cycles when washing bedding, water-resistant or bulky items. A Home Kit Label will be sent to owners of problematic machines which can be applied to the control panel of certain models. It also supplies additional warning labels and instructions to ensure owners select the reduced spin cycle as mentioned above.