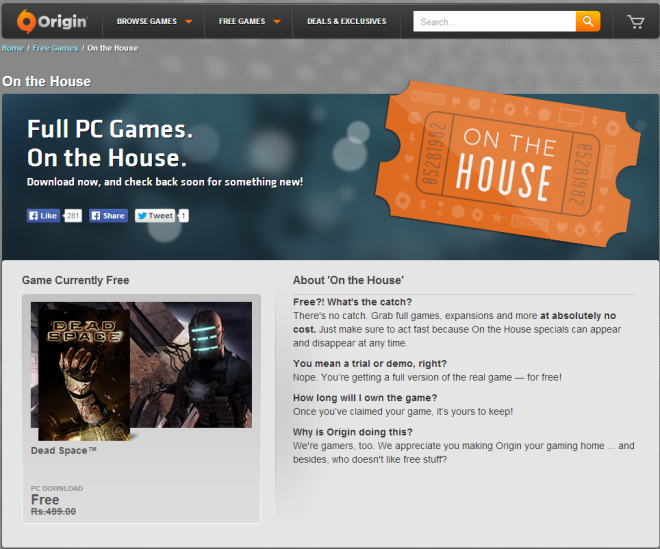 EA's Origin has just kicked off the free-game-a-month bonanza for all its fans who will login to Origin account and install the software on their computer, on or before 8 May.
As part of their monthly giveaway program, EA will be sponsoring free access to download the blockbuster survival horror game, Dead Space, for all those who qualify with the said prerequisites.
Dead Space offers the enthralling experience with a heady-mix of game elements borrowed from top-selling games such as BioShock, Halo, and Resident Evil.
The "On The House" system of sponsoring the original Dead Space game could actually be a marketing ploy by EA to entice gamers into exploring new titles that will be available through Origin in the coming days.
First timers need to sign up for an EA Origin account and then proceed with the installation of Origin app on their Windows PC in order to avail this offer. The catch here is that there seems to be no limit on how many people could actually download this software.
Just grab your favourite title by visiting Origin's "On The House" campaign here.
The FAQ handout posted by EA on the Origin website says (see screenshot below):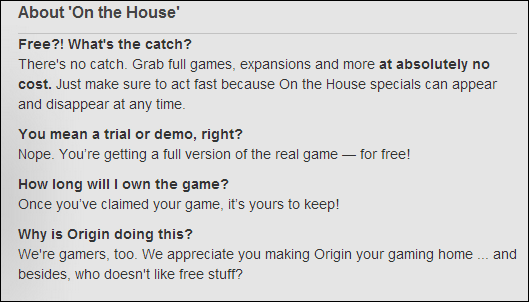 If you missed out Dead Space game at release or just want to replay the game badly then head over to Origin at once and make the most of EA's generous offer, or wait until next month hoping for something better.