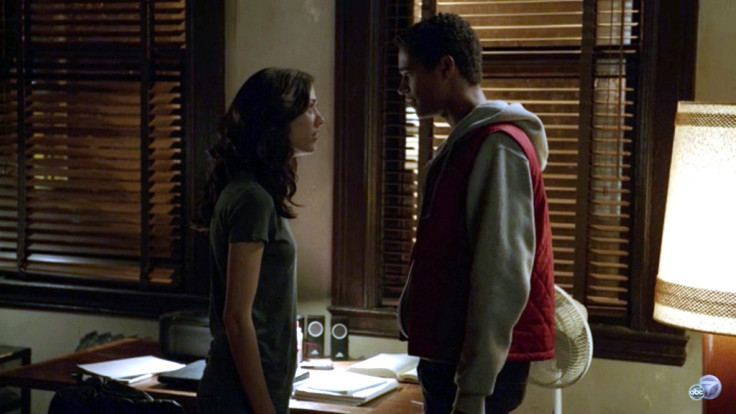 How To Get Away With Murder is building towards an epic two-hour season finale which will air on Thursday, 26 February on ABC.
Episode 14 is titled, The Night Lila Died, and episode 15 is titled, It's All My Fault.
The official synopsis for The Night Lila Died reads as follows:
In flashbacks, we start to piece together what really happened the night of Lila's murder. In present day, Annalise takes on a priest who is accused of murdering another priest. Meanwhile, Connor and Oliver take things to a new level in their relationship, and Wes and Rebecca continue to grow suspicious of each other, on part one of the season finale of How to get Away With Murder.
The official synopsis for It's All My Fault reads as follows:
Wes, Connor, Michaela and Laurel may have dug themselves in too deep a hole for Annalise to save them, and the shocking truth about Lila's murder is finally revealed, on the season finale of How To Get Away With Murder
Sam Keating may be dead and Nate Lahey may be locked up for Sam's murder, but the Lila Stangard case that started all this is far from over.
In episode 13 Rudy Walters made his first appearance in the show and brought some new information with him.
As we know, Rudy used to live in Wes' apartment and had "crazy monkey sex" that presumably left the huge scratches on the wall. He was Rebecca's neighbour while Lila Stangard was alive and, according to recent developments, he left town without even giving his grandmother a forwarding address.
According to Rebecca, she called the cops on Rudy and he was sent to a mental institution due to his "nervous breakdown," but Wes smelled something fishy and looked into Rudy's arrest.
He discovered that not only had Rudy actually suffered a drug overdose but he was also arrested on the same night that Lila Stangard was murdered. Besides, when Wes showed him a photo of Rebecca and asked if he recognised her, he said a single word - "wet."
Wet implies water tank where Lila Stangard was found. Wes thinks this means that Rebecca and Rudy had to do something with Lila's murder
A sneak peek from ABC also shows a bit about what will happen to Nate in this finale.
We already know that Annalise planted evidence in Nate's place and had him arrested for Sam Keating's murder, in order to save her students.
In the sneak-peek, we see that after his bail is denied by the judge, Annalise complains that Nate should fire his lawyer and pursue the one she had told him to contact.
Bonnie asks Annalise to not get involved in his case, but she replies, "Don't tell me what I can or can't do."
A new 30-second promo teases fans by saying that the answer to the big question of who killed Lila will be revealed in the finale.
"I feel like something is wrong" Rebecca tells Wes, as she knows he is spying on her, and that he visited Rudy in the mental institution. But Wes dismisses it and says, "Nothing is wrong."
The promo says, "The mystery of the year is finally solved - Who killed Lila? And the only thing more shocking than the answer is what goes down in the final awesome minute."
The video shows Annalise saying, "What the hell is going on."
When she enters Wes' apartment, we see a tense Michaela and Laurel, as a door is opened and Annalise sees something shocking.