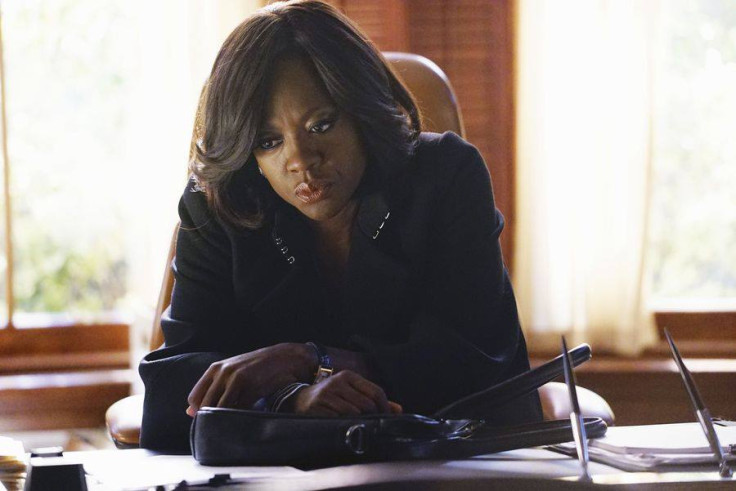 With just one week to go for the finale, How To Get Away With Murder season 2 promises another cliffhanger murder-mystery. In the previous episode, Annalise's baby's fate was revealed in flashbacks. Annalise lost her baby in a car accident and she blames herself for it.
In the penultimate hour, Wes found out that his mother had committed suicide and that he is the illegitimate son of Wallace Mahoney. Also, Asher and Bonnie hooked up and Annalise found out that Frank killed Lila.
Here are a few things to expect in the HTGAWM finale:
1. Episode 15 is titled Anna Mae, which will air on 17 March at 10pm EST on ABC. The episode's tagline sends a cryptic message: "You can run, but you can't hide." The upcoming episode will pick up with Annalise running off to her mother to escape the chaos and pressure.
2. According to showrunner Pete Nowalk, season 2 finale will look and feel "very different than anything we've done before". He told TVLine: "The finale is very character-revealing, and it's slower-paced in a way that I find cool and different. But it ends in a way that people will want to see what happens next season."
3. How To Get Away With Murder is known for its murder-mystery cliffhangers. From Sam Keating's murder mystery in season 1 premiere to Lila Stangard and Rebecca Sutter's death cliffhanger, the show has always ended on a cliffhanger. Also Nowalk said: "There will be a dead body. But know that I don't want to do anything you'll expect." So, you can expect another murder mystery in season 3 for Keating 5 to solve.
4. Asher and Bonnie hooked up in the previous episode and judging by the finale promo, they will not be planning to stop anytime soon. Speaking about their possible romance, Nowalk told Entertainment Weekly: "Guilt is the predominant feeling for both of them the next morning — specifically because Caleb is still missing. If I were their therapist, I'd say forget it ever happened. The question for next week is: Do they want to? Because from what I saw, they both seemed to be enjoying themselves."
5. This episode will finally reveal why Frank killed Lila at Sam's request and Wes will continue to get closer to finding out about his past aka his dad. According to Nowalk, the finale episode will tie all the past threads together. He explained: "We've seen Frank in the past. We've seen Sam in the past. We've seen Bonnie. And now we'll see how all these threads unite into one story, which has been our goal. We ended last season with the reveal that Frank killed Lila for Sam, so we definitely have to answer that by [the season 2] finale. You've been waiting patiently. We don't drag things out that much — and this is one that we dragged out longer than most — but only because it comes together in a very shocking but also satisfying way."