Dramatic video has emerged showing passengers scrambling for safety after their aircraft crash-landed at Dubai airport and caught fire. Although being ordered by air stewards to leave luggage behind, many people can be seen grabbing their bags and belongings from overhead lockers before exiting the burning aircraft via the inflatable slide.
"Leave your bags and jump down the side," the crew can be heard shouting.
The Boeing 777, which was flying to the United Arab Emirates from the southern Indian state of Kerala, was pictured on its belly with thick, black smoke rising into the sky. A firefighter was killed tackling the blaze, but miraculously, all 300 passengers were able to escape the plane.
But what should you do in an emergency – grab your bags if you can, or just get out of the aircraft?
For the overwhelming majority of flights, the most passengers have to worry about is uncomfortable – and sometimes frightening – turbulence. But in a life-threatening situation, many still reach for their belongings before evacuating an aircraft.
Not all safety videos on aircraft explicitly state passengers should leave belongings behind if the plane is evacuated in an emergency but aviation experts resolutely agree this is the safest thing to do.
The US Federal Aviation Administration, which outlines the rules for flying, states all carry-on items should be left on the plane if emergency evacuation is necessary. "Retrieving personal items may impede the safe evacuation of passengers," the website reads.
Harro Ranter, CEO of the Aviation Safety Network, told IBTimes UK that the Dubai accident highlights the importance for passengers to always pay attention to the flight safety demonstration at the start of the flight and read the flight safety card.
"The Emirates crew did a good job in shouting to passengers to leave everything behind when the evacuation was initiated," he said. "It's a miracle all of the passengers came out unharmed since a video of the evacuation shows several people grabbing their carry-on luggage from the overhead bins.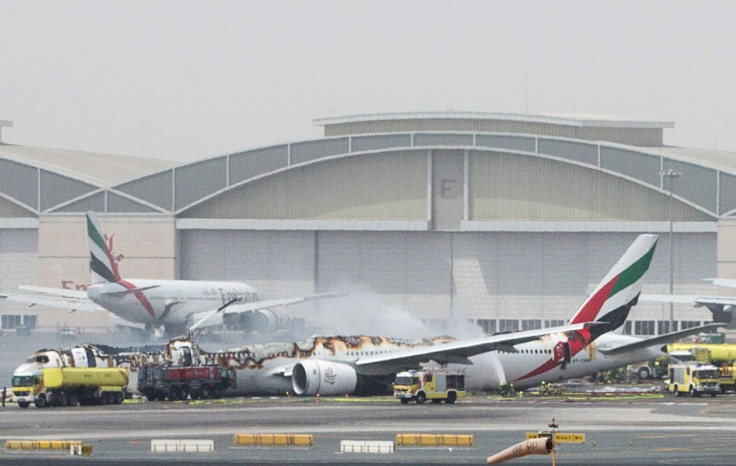 "Evacuating with carry-on luggage takes additional time and increases the risk of obstructing the exits or aisles."
Ranter says all passenger aircraft manufacturers must prove to authorities that an aircraft must be evacuated within 90 seconds with half of all doors unobscured. This is in case there is a fire on one side of the aircraft, for example, or if access to some doors is blocked.
This is not the first time passengers in an emergency situation have been criticised for taking their belongings off a plane. In September 2015, a British Airways Boeing 777 bound for London from Las Vegas caught fire while taking off at 90mph.
After the plane came to a standstill, the passengers were filmed running from the aircraft carrying rucksacks, handbags and shoes. Although all 172 people on board were evacuated safely, they were accused on social media of putting others at risk by blocking aisles.
"I do find it disgusting that these people all valued their hand luggage above other people's lives," one user tweeted.
For many people, retrieving their belongings is the natural action to take when leaving an aircraft –particularly if the plane has come to a standstill. It takes time to process the threat of an emergency situation, so passengers act in panic.
Following the British Airways incident, the British Civil Aviation Authority issued a warning to airlines to urgently review safety instructions to make it clear passengers should stop taking their hand luggage with them in an emergency.
Sue Rice, a cabin safety consultant who worked as a flight attendant for more than 20 years, detailed the standard evacuation procedure to Australian ABC News. In the case of an emergency, she said air stewards would first undo their seat harnesses and check the outside conditions.
"They would have opened the doors, the slides would have deployed and they would have told people to (leave their) seat, leave their bags behind and get out," she said.