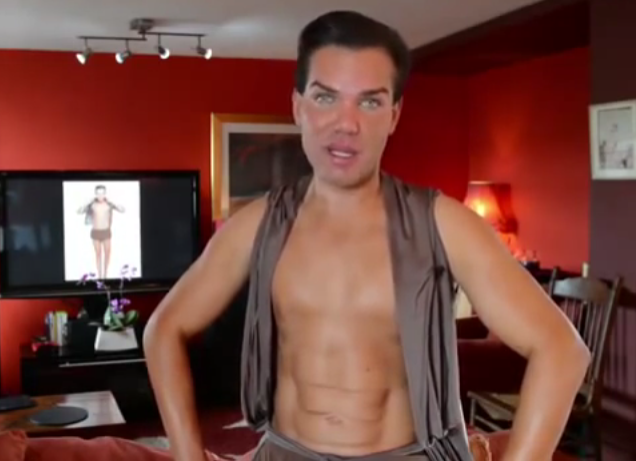 Living the life of a Ken Doll is not easy as it comes with a heavy price tag and multiple surgeries to maintain that look. But Rodrigo Alves is unbothered by the challenges and continues his obsession to transform himself to the male toy. He's now made a few startling revelations about his future plans.
The reality star has had a whopping 60 plastic surgeries all over his body to look like the highly popular doll. But that's not the only thing, During an Italian television appearance, Alves shocked the audience by confessing that he also aspires to change his sex and become a Barbie doll as his manhood is the only part of his body still untouched by surgeries.
"One day when I'm older I may have a sex change and became a Barbie," he told Daily Mail in a separate interview. While he saves his shocking final transformation for the future, he does admit that living as a doll needs constant medical maintenance of his body. "Being a live human Ken Doll has never been easy. It takes constant maintenance. Bits fall off and need repairing now and again," he added.
But complications don't deter him from his decision to have more surgeries in the future. Speaking about the challenges he suffers, Alves said: "I am 34 years old now and I have had two hair implants and I'm due to have another one in few weeks, simply because I was not born this way. I made myself this way with nearly 60 plastic surgeries and more the 100 aesthetic procedures."
The 34-year-old plastic surgery fanatic has altered his entire body and has been criticised for looking plastic in his appearance.
While he depends on artificial enhancement to maintain his looks, he has said he wants to lose weight naturally. He told the website: "The problem is not my clothes being too tight, it's my body. I need to lose two stone in two weeks. I want to do this (lose weight) the natural way now. I won't do what everyone else does."
'I'm saying goodbye to liposuction. I'm not saying that I won't have another facelift when I want to or when I need to, I'm just changing my lifestyle which means a good diet and for the first time in my life, facing the gym," he added.