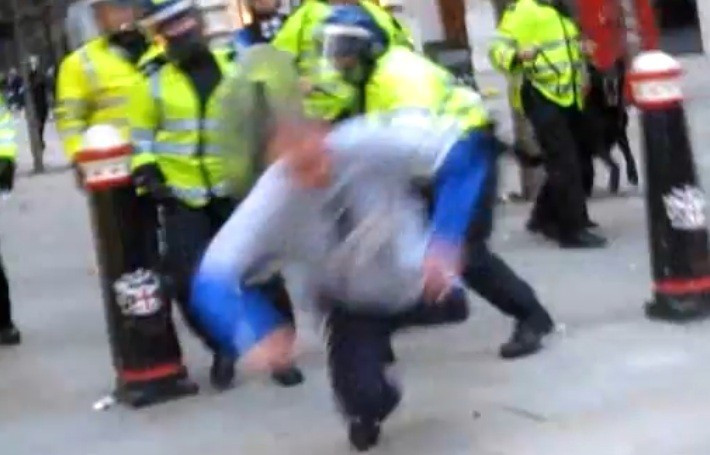 The pathologist who conducted the first post-mortem on the man who died after been pushed to the ground at the G20 protest in London has been struck off the medical register.
Dr Freddy Patel originally said Ian Tomlinson had died from heart problems after being pushed to the ground and struck with a baton by PC Simon Harwood during the protests in 2009.
Further medical tests showed that Tomlinson, 47, had died from an injury to his liver that caused internal bleeding before suffering a cardiac arrest.
Patel, 63, was found guilty of misconduct but was not at the Medical Practitioners Tribunal Service (MPTS) sitting in Manchester. The tribunal also declared the doctor's findings in the Tomlinson post-mortem had been misleading and dishonest.
Rev Robert Lloyd-Richards, the chairman of the MPTS fitness to practise panel, described Patel as having an "unwarranted confidence" in his ability but lacked insight.
In total, the MPTS found 68 failings in Patel's work, including failing to tell police that Tomlinson suffered injuries that could have originated from a baton strike.
Twice suspended
A tribunal panel said Patel had carried out a "dishonest and misleading" post-mortem on the newspaper vendor.
Patel had already been suspended twice over the years for unsatisfactory work by medical watchdogs.
Niall Dickinson, chief executive of the General Medical Council (GMC), said: "We welcome the decision that Dr Patel's name should be removed from the medical register. This means he is no longer able to practise as a doctor in the UK.
"We asked for him to be removed from the register as the best way of protecting the public because his conduct fell far below the standards we expect of a doctor. We are therefore pleased by today's outcome."
'Uphill struggle'
PC Harwood was cleared of the manslaughter of Tomlinson despite a separate inquest declaring Tomlinson had been unlawfully killed. Harwood will face Met Police disciplinary proceedings in September.
Julia Tomlinson, Tomlinson's widow, said: "The incompetence and dishonesty of Freddy Patel helped PC Harwood and gave us an uphill battle for justice from the start. He misled everyone saying that Ian had died of a heart attack when in fact he had died of internal bleeding. It's good that people can see some of the things we have been up against.
"Patel has a lot to answer for and I would like to know why with all the good pathologists there are he was selected to do the first post-mortem."