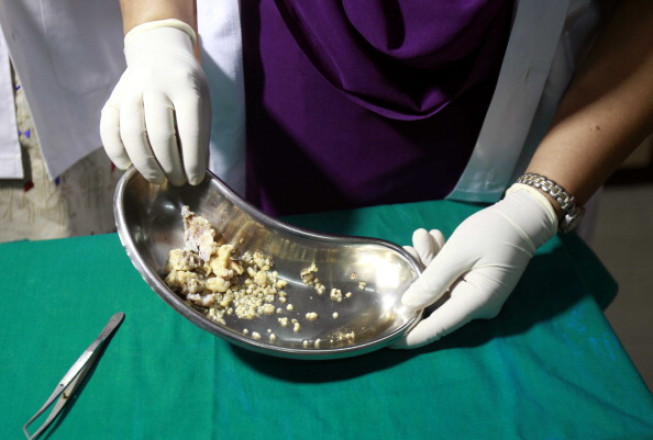 A seven-year-old Indian girl finally got rid of the 202 extra teeth she developed inside her gums.
A hotelier from Gurgaon brought his daughter to the Oral Care centre of the All India Institute of Medical Science (AIIMS) after she complained of severe pain in her mouth along with swollen gums.
However, after a series of tests and scans, the AIIMS doctors were in for a shock when they discovered hundreds of teeth compressed in a complex tumour inside her gum.
The girl was suffering from a disease called compound odontome, a complex tumour consisting of irregularly grown normal dental tissues, Dr Ajoy Roychoudhary, head of the department of oral and maxillofacial surgery, told the Times of India.
"Normally, we see a few abnormal teeth-like structures in such patients; 202 of them inside the mouth of a 7-year-old is shocking, to say the least," Roychoudhary explained the medical condition to the website.
It took two long hours for a group of AIIMS doctors to remove all the 202 teeth from the girl's mouth.
The surgeons needed to take extra precaution to avoid any kind of damage to the gums which may require months to heal.
"Though the surgery is simple, it requires high precision since any damage to the adjoining tissues or the jawline could take a long time to heal. We used a special bone-cutting instrument to remove the tumour in this case," Dr Ongkila Bhutia, of AIIMS' Centre of Dental Education and Research told the website.
Meanwhile, the family of the girl is more than elated and considers the success of the surgery as "the best birthday gift for her as the surgery was conducted a day after her birthday."
A similar case surfaced a few months before when a 17-year-old from the Indian city of Mumbai went through surgery to remove 132 teeth from his mouth.
According to experts, children within the age group of 10 to 18 can develop this rare medical condition.