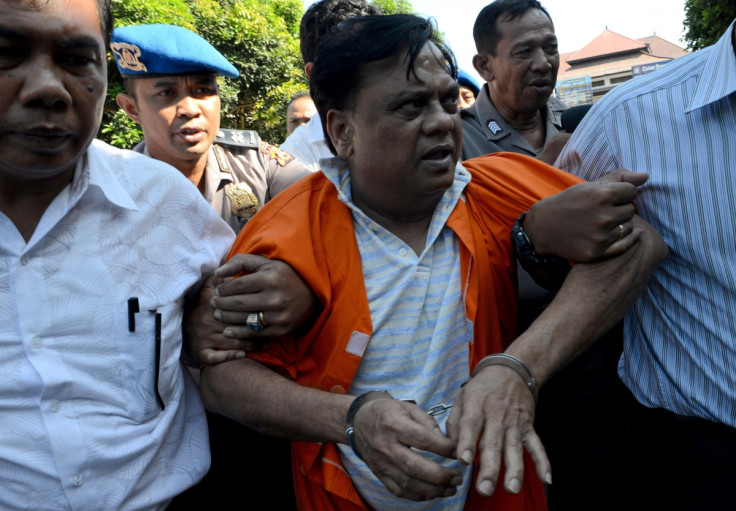 One of India's most wanted men will be deported by Indonesia after an international manhunt spanning two decades came to an end. Ranjendra Nikalje, commonly known as Chhota Rajan, was arrested by police in Bali last week, and is due to be sent to India tomorrow (4 November) where he faces more than 75 charges, including murder, drug trafficking and extortion.
The 55-year-old was originally supposed to be sent to India tonight (3 November), but the deportation was delayed due to volcanic ash cloud caused by the eruption of Mount Rinjani. Rajan, who has been on Interpol's wanted list since 1995, will be flown to the capital, New Delhi where he will be in the custody of India's Central Bureau of Investigation (CBI). Previously, there was some confusion as to whether Rajan would be flown to New Delhi or Mumbai after authorities expressed their lack of faith in the Mumbai's police force.
Earlier this morning, Rajan alleged that some members of Mumbai's police have links with Ibrahim Dawood, India's most wanted man. "Mumbai Police has committed a lot of atrocities on me and I don't trust them. There are some in the Mumbai Police who are working with Dawood. The Delhi government should do justice with me keeping that in mind. I am not scared of Dawood and I will continue fighting against him and terrorism,"Rajan told reporters in Bali.
The two were formerly close associates and Rajan's arrest is part of a wider plan to track down Ibrahim. The pair fell out in 1993 over the Mumbai bombings which killed 257 people and injured more than 700 others. Rajan objected to the attacks, according to a 2005 US diplomatic cable. Since then, a number of attempts have been made on Rajan by members of Ibrahim's gang, and the US cable said: "Rajan is believed to have been responsible for the targeted killing of a number of Ibrahim's associates."
After leaving India, Rajan exported his criminal activities to Thailand, Indonesia and Australia, where he lived under a fake Indian passport. Rajan was arrested in Bali following a tip-off from Australian authorities to Indonesian police. The Indian government believes that Ibrahim is in Pakistan and this was confirmed by Rajan, who also alleged that the gang boss is under the protection of the country's Inter-Services Intelligence (ISI). Islamabad has repeatedly denied that the gang boss is on its soil.