Intel has announced a mixed-reality headset, which combines a point-of-view camera with virtual reality. Called Project Alloy and revealed by CEO Brian Krzanich, the headset will be available in 2017 and could become a rival to the Microsoft Hololens, another mixed-reality system.
Here is everything you need to know about Intel Project Alloy, the latest player in the growing virtual reality industry.
1. It will launch in 2017
Although it was demonstrated on stage on 16 August, Intel says Project Alloy will not be available to people outside of the company until 2017. Although several rivals are already on sale, 2017 is set to be a major year for VR development and growth from the nascent market.
2. Project Alloy will be offered as an open platform
This means developers will be given the freedom to do what they want with Project Alloy. They will be less tied down than on other platforms, with Intel pledging to open the hardware and provide open APIs as part of an entire ecosystem. This will allow developers and partners to create their own branded products based on the Alloy's basic design.
3. There are no cables
A major sticking point with VR headsets like the HTC Vive and Oculus Rift is their cables. Being plugged into a computer means exploring a VR world can feel restrictive. Intel says Project Alloy will be untethered, meaning no cables.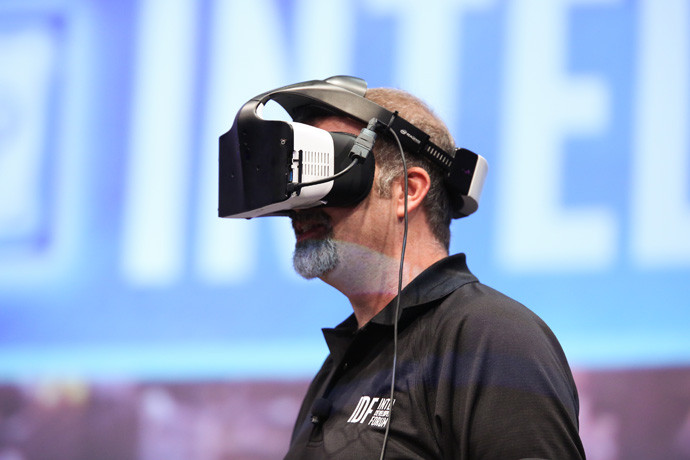 4. Freedom with collision avoidance
The Project Alloy offers users six directions of movement, similar to the HTC Vive. Intel says the system works across a "large space" but doesn't say exactly how much the wearer can walk around in VR. Unlike the Vive, which relies on two sensors positioned across the room to help it know where it is, Project Alloy carries all of its sensors onboard.
5. Merged reality and Intel RealSense
Instead of virtual reality, Project Alloy uses merged reality. Also used by the Microsoft HoloLens and mysterious Magic Leap, this is where a virtual reality image is laid over what the wearer can actually see. As Intel explains: "Through merged reality, see your hands, see your friends...see the wall you are about to run into. Using Intel RealSense technology, not only can you see these elements from the real world, but you can use your hands to interact with elements of your virtual world, merging realities."
6. Less product, more platform
Project Alloy is not a finished product to be sold to consumers, like the HTC Vive. Instead, this is an entirely new mixed-reality platform created by Intel. Developers and even other hardware manufacturers will be able to produce their own Project Alloy-based products and software.
7. A partnership with Microsoft
Intel is also collaborating with Microsoft to "optimise Windows-based content and experience on Intel-based VR devices such as Alloy."