Less than two weeks of launching the first version of iOS 6, the Apple has now released the second beta with minor bug fixes and enhancements. The new version is expected to expire on 31 July 2012.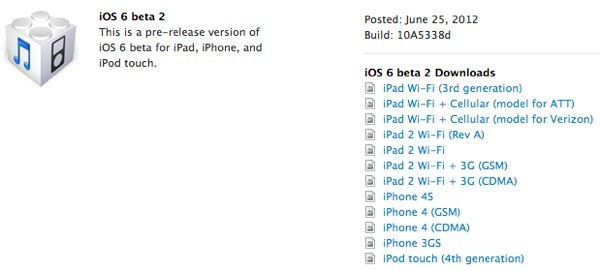 The iOS 6 was launched on 11 June at World Wide Developer Conference (WWDC) 2012 and the beta was made available for download for iOS Developer Program members at the iOS Dev Centre.
The update is 299MB for the iPhone 4S, 322MB for the iPhone 4, according to 9To5Mac. It is 497MB in size for the new iPad. The update is available for iOS 6 via Over-The-Air (OTA) update. The Beta 2 has a build number of 10A5338d and it brings some "bug fixes and improvements."
It is compatible with the new iPad, iPad 2, iPhone 4S, iPhone 4, iPhone 3GS and the fourth-generation iPod touch. Besides, it is reported that the Cupertino company has updated Xcode 4.5 developer preview 2, Apple TV beta 2.
Developers who wish to download the iOS 6 Beta 2 will be able to do so through OTA update by just heading over to Settings > General > Software Update. When downloading the iOS 6 Beta 2, the icon is animated with spinning gears. Check out the video below:
"One of the bigger changes in the new beta is the inclusion of a toggle to control whether or not you can use iOS 6's new Shared Photo Streams feature. The toggle is in both the Photos settings page and the iCloud settings," explains 9To5Mac.
In addition, users can view the new Twitter icon. It is reported that a TweetSheet inside the Siri user interface has been slightly revamped in the iPhone 4S. The new update allows users to access more information on Passport's splash screen; it adds "Wi-Fi Networking" to the System Services.
It includes changes such as a toggle for syncing Reading Lists over 3G, Guided Access feature, Calendar notifications show-up ending date and time, Smart Banners in Safari and a Redesigned App Store.
"In iOS 6 Beta 1, the Keyboard would skip keyboard click sounds as you typed while typing at a steady, fast pace. This small bug has been fixed in iOS 6 Beta 2, bringing a more fluid typing experience to your fingertips," explains Modmyi.