Apple fans looking to import Siri - the hugely popular voice-activated personal assistant that debuted with the iPhone 4S - to other iDevices, the wait is over.
The problem, up until now, was the range of glitches and bugs that came with installing expensive proxy servers (issues with maintaining connection due to network bandwidth issues) or, worse still, having to live a poorly-installed and often malfunctioning Siri, despite repeated installations.
There is, however, good news at last. The discerning community of jailbreakers from JBU have unearthed a perfect solution to jailbreak your iDevice and then install Spire on it, along with the aid of an AssistantServer Installer.
The new method involves the use of a basic plug-in that uses the Siri server to connect to Google's API. This process eliminates the possibility of a crowded server - irrespective of how many people are using the plug-in, the user connection speed remains stable and thus Siri is expected to work as seamlessly as if it were on an iPhone 4S, according to Jailbreak Untethered (JBU).
In addition to the step-by-step guide, the jailbreak team of hackers brings an exclusive video illustrating the AssistantServer in action. This makes it easier for you to get Siri working safe and sound without the need to buy an expensive Proxy server.
Check out the step-by-step guide below to install Siri without a proxy server:
How to Install Siri on iPhone 4/3GS, iPod Touch 4G/3G Without a Proxy Server
Pre-Requisites
Then install the following packages:
Spire
AssistantServer Installer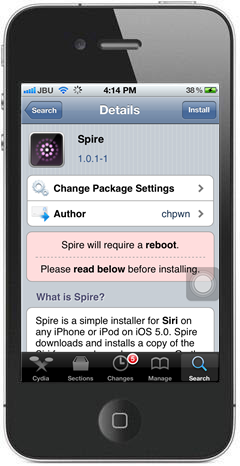 Procedure:
Step 1: Open Cydia > Click on "Search" > Type "Spire" > Install (Or follow the video tutorial below for installing Spire)
Step 2: Once you are done installing "Spire", go back to the search bar and type "AssistantServer Installer" > Install (AsistantServer Installer is the add-on available for just £0.62 or $0.99)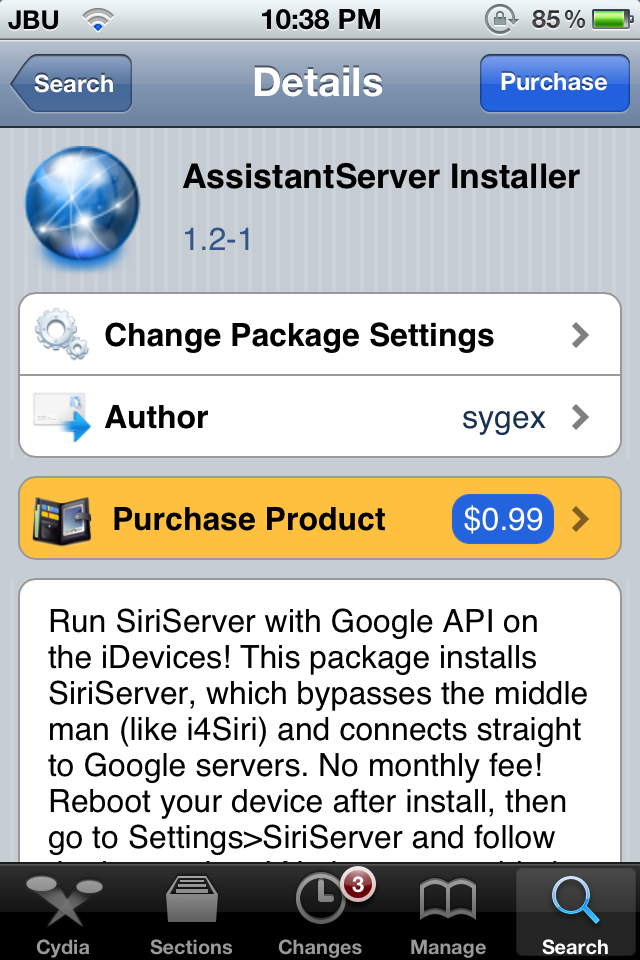 Step 3: Navigate to Settings > General > Siri
Step 4: Now, ensure that Siri is set to "On"
Step 5: Navigate back to Settings > Scroll down to select "Spire"
Step 6: After selecting "Spire", you'll see the proxy host which you'll type into your proxy server: http://127.0.0.1:4443
Step 7: Go back to Settings > Scroll down to select "Siri Server" > Click Install > Done
The only catch is you won't need to install a certificate since the tweak has been updated recently and a certificate is not required anymore. Congratulations! This ends the jailbreak process and you can now speak to Siri and get cracking answers to some funny questions with your personalised voice assistant.
For Visual Assistance, Check Out Video Tutorial Below:
Priced at just £0.62, the AssistantServer is truly bang for the buck! Go ahead and try it out yourself, if you want to save those precious pounds against buying an iPhone 4S just for the sake of Siri. This reminds us of an old, yet popular thought: "Penny Wise and Pound Foolish".
MUST READ: Will 'Voice Answer' Remedy the Absence of 'Siri' on Non-iPhone 4S Devices? [VIDEO]
MUST READ: iOS 5.1 Untethered Jailbreak: Pod2g Makes Rapid Progress Breaking ASLR Puzzle, Release Seems Imminent
MUST READ: iOS 5.0.1 Untethered Jailbreak: Redsn0w 0.9.10b7 Released, Brings Corona A5 Jailbreak for iPhone 4S and iPad 2