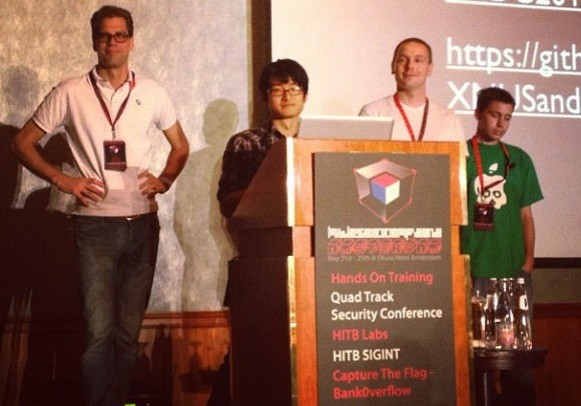 There is more good news for the jailbreak community, as more hackers join forces with planetbeing (aka David Wang) and pod2g (aka Cyril Cattiaux) in their quest to unleash the public release of iOS 6.1 jailbreak soon.
According to recent developments, Nikias Bassen (aka Pimskeks) has made a grand comeback to jailbreak scene following his short break. As iDownloadBlog notes, Bassen (the developer of Absinthe 2.0 jailbreak fame) recently tweeted: "no time to rest, time to get something done!"
Among other prominent members of the jailbreak team, Joshua Drake (security researcher and winner of DefCon 18's 'Capture The Flag' hacker competition) has opted to dig out more unpatched webkit exploits in Safari, while others questioned the feasibility of using the complicated web-browser based exploits.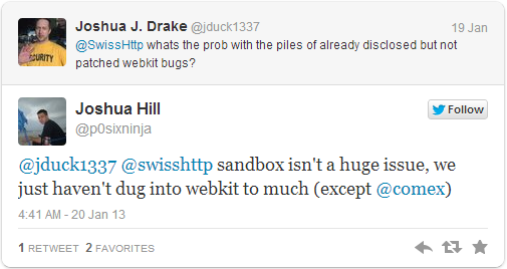 Meanwhile, Joshua Hill (aka p0sixninja), a leading iOS developer and the creator of iOS 5 jailbreak, had this to say in a Twitter response to webkit exploits proposition by Drake: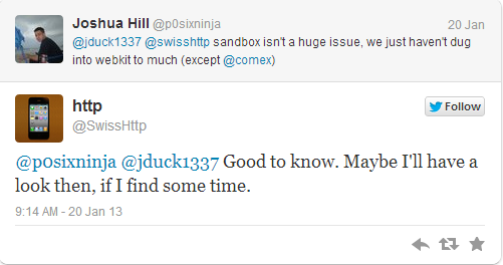 "@jduck1337 @swisshttp sandbox isn't a huge issue, we just haven't dug into webkit to much (except @comex)."
SwissHttp (aka Joshua Drake), then volunteered to dig deeper into webkit exploits in his spare time and contribute towards the cause. Here is what the hacker had to say:
"@p0sixninja @jduck1337 Good to know. Maybe I'll have a look then, if I find some time."
In the latest developments, pod2g seems to have made significant progress towards creating a public release of the jailbreak for the immediate future. In his recent status update on Monday, pod2g tweeted:

"Hey @planetbeing, please look at your IRC, I think I have good news!"
As iPhone Hacks notes, planetbeing also responded in his recent Twitter update, saying: "Tons of progress the last few days. I think the future is looking bright for jailbreaking. :)"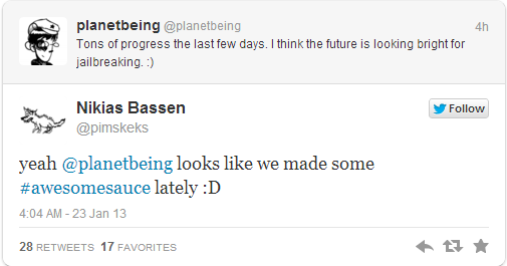 Another noted security researcher - pimskeks - of iOS 5.1.1 untethered jailbreak fame, tweeted: "yeah @planetbeing looks like we made some#awesomesauce lately :D"
It is already ascertained that the Dream Team would be holding off the public release of the jailbreak until iOS 6.1 is released from Apple. This is to prevent Apple from patching the exploits in its forthcoming update and pave the way for an iOS 6.1 untethered jailbreak in the near future.
Meanwhile, Apple is preparing the public release of iOS 6.1, while four beta iterations of the impending update are already under developer testing. Given the latest developments, the public release of the update followed by the highly-anticipated untethered jailbreak seems certainly around the corner.