Apple recently announced its highly-anticipated iOS 7 update at the Worldwide Developer Conference (WWDC) in San Francisco and the public release for next iOS update is scheduled for 18 September. With the iOS 7 release just around the corner, iOS fans would be eager to know what makes the next iOS better than its predecessor.
IBTimes UK brings you the top reasons to favour installing iOS 7 on any iDevice, courtesy of iPhone Hacks.
Bunch of Goodies
iOS 7 comes with a host of interesting feature upgrades and a handful of goodies such as Control Centre with quick access to integrated services and apps like Airplane mode, Wi-Fi, Bluetooth, music playback controls, flashlight and more. The Control Centre also features a new Spotlight search that can be accessed with a single swipe of your finger on the home screen.
In addition, several minor tweaks such as standalone FaceTime app for iPhone, Audio only FaceTime, Slide to unlock Anywhere and Dynamic clock icon with real-time (live) updates for displaying correct time make their way into iOS 7.
Revamped Notification Centre
The Notification Centre in iOS 7 introduces a new translucent background for notifications that allows you to see through parts of the app underneath it. Notifications may be viewed based on their type by using classification tabs such as Today tab, All tab and Missed tab.
For instance, Today tab allows you to view current weather, reminder stocks, upcoming events and a brief summary of tomorrow's schedule.
The Notification Centre is now accessible from any screen, including the Lock screen with just a swipe of your finger.
Photos App with New Smart Groups and iCloud Photo Sharing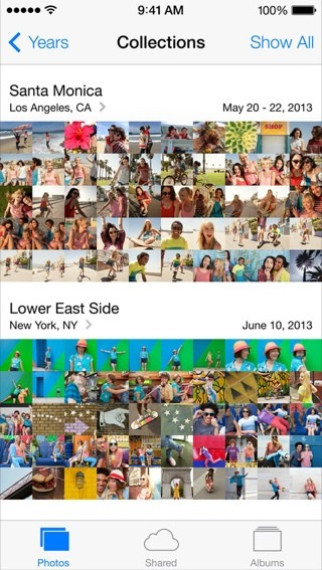 The new photos app supports non-linear gallery of photos, as it organises photos into Smart groups based on when and where the photos were taken. It categorises your photos under Collections, Moments and Years. For instance, each year holds Collections such as a trip to your favourite location and each such Collection holds distinct Moments such as photos of Hollywood Boulevard and videos of San Francisco Bay.
iCloud now enables sharing of your favourite moments with your family and friends via shared photo stream. The photos then appear on all shared iOS devices automatically, while the new Activity view allows the user to see the latest updates from all the shared streams in one place.
Siri Gets Smarter and Attractive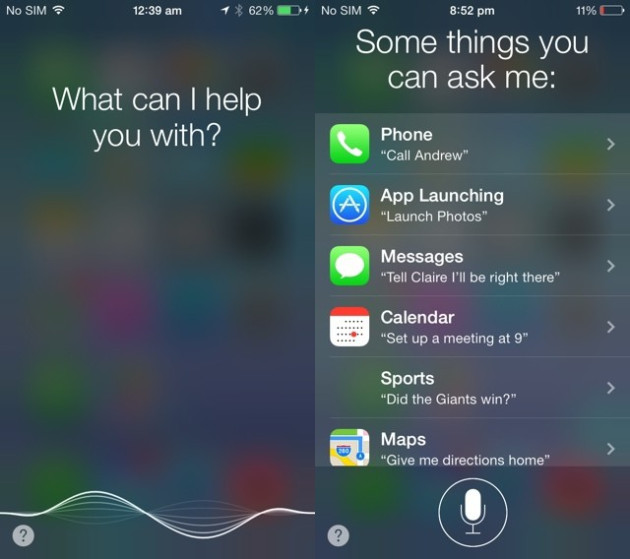 Siri is now transluscent (just like the notifications and Control Centre) and it blends into the content on the home screen. It enables you to answer calls, control iTunes Radio and gathers information from more sources than before.
Smarter Multitasking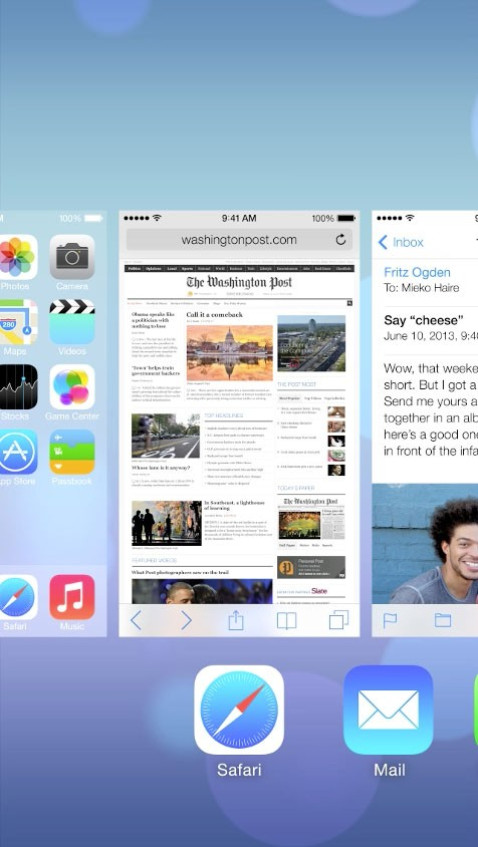 Multitasking with apps gets better and smarter in iOS 7 as the software learns what apps the user likes and when he uses those apps. The app content database is then updated accordingly and users will get notifications even before launching their favourite apps.
For instance, if the user checks his favourite social app at 9:00 am daily, the content update feed will notify him about the impending activity.
Hit the Home button twice to see preview screens of all open apps, and swipe it upwards and out of preview window to quit the app.
iTunes Radio
iTunes Radio is the live-streaming music service that allows you to create music stations and listen to featured stations such as 90s Dance Hits, Trending music on Twitter and more. The service is free with ad-support for all iOS users.
Subscribers of iTunes Match service for £16 ($24.99) will get access to the ad-free version. The Beatles is now available on iTunes Radio which is one more reason to update to iOS 7.