Unlike the riotous scenes which greeted the launch of the iPhone 4S a few years ago, the launch of the iPhone 6 and iPhone 6 Plus in China was a very much more sedate affair.
On Friday morning across China, Apple opened its stores and began selling its latest iPhones, which had been on sale in other countries for a number of weeks already. Yet despite a pent-up demand for the new, bigger phones there were no scenes like those witnessed in 2012 when a delay in opening one of Apple's store led to angry outbursts from customers and a suspension of sales across the country.
According to Chun Han Wong writing in the Wall Street Journal, the launch was "decidedly low-key" with just around 100 customers waiting in line outside Apple's retail store in Beijing when it opened at 8am on Friday.
But we shouldn't equate these scenes with a dramatic loss of interest in Apple's new phones. In fact it seems the oppposite is true.
One of the main reasons for the lack of hysteria which has marked previous launches, was the fact the new iPhones had gone on sale through all three of the country's biggest networks at midnight sating much of the pent-up desire in China.
The delay in launching the two new smartphones in China had been the result of security concerns the Chinese government had with Apple's products, and this uncertainty led to a booming grey market where thousands of the new smartphones where smuggled into the country and sold for up to three times their market value.
Pre-orders set new record in China
Hours ahead of the launch of the iPhone 6 in China, Apple's CEO Tim Cook addressed the matter in his keynote address during the launch of Apple's latest iPads and iMacs.
Cook said the iPhone 6 and iPhone 6 Plus were the fastest selling iPhones in history, and the first 30 days of sales had "set a new high water mark for orders taken...by a lot, a whole lot." Cook didn't given any specific numbers but addressing the Chinese launch specifically, he said this was the first time Apple was launching new iPhones on all three of China's major network. He also said that "perfectly aligned to the early stages of China's huge 4G rollout".
Pre-orders in China have also set a new record according to Cook, but once again he failed to give specifics.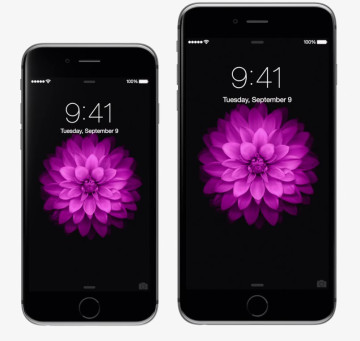 Earlier this week Chinese website Tencent reported that pre-orders for the iPhone 6 had hit 20 million and that did not include pre-orders taken by Apple or any of its 6,000 official resellers in the country.
The report further stated that the larger 5.5in iPhone 6 Plus was the bigger seller with some retailers.
Apple announced that it had sold 10 million iPhone 6 and iPhone 6 Plus smartphones during the opening weekend of sales in 12 countries last month, which indicates just how huge the Chinese market could potentially be for the company.
So while there may be fewer people waiting in line outside Apple stores in China, but the company looks like it has a huge winner on its hands with the iPhone 6 in what is fast becoming its most important market.