For anyone who thought Apple might have lost its mojo they only have to walk past an Apple store on iPhone launch week to gauge public interest. And yet again, die-hard fans are out in numbers in anticipation for the new iPhone 7 and have already started camping outside Apple stores – five days before the smartphone is released.
The new iPhone 7 and 7 Plus are set to hit stores in most countries on 16 September and, as always, fever for the new phone has caused lines to grow, with keen consumers spotted outside stores in America and Germany on Monday 12 September.
While five-days might sound like a long time to wait, it's reported that one man has been sitting in line outside New York's Fifth Avenue store since 25 August – almost two weeks before Apple even unveiled the iPhone 7 at its keynote. However, this man is less devout fan, more professional line-sitter who has claimed he was paid $3,400 for a week of lining up at the front of the queue.
He's not the only opportunist. Weaved in among real consumers who can't wait to get their hands on the new phone you will find numerous line-sitters who pitch up and sell their place in the queue for a price.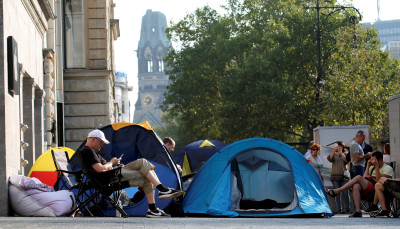 In a tweet by a Bloomberg intern he pictured a professional line-sitter who is offering his place – 13<sup>th in line – for $300. Another said the job can make them thousands, profiting from those who can't be bothered to camp out in the elements to get the new gadget but still want to show it off before anyone else.
At time of writing no such queues were to be found outside London's Apple stores but with its large Regent Street outlet closed for refurbishment its glossy Covent Garden location will likely play host to any dedicated Applers.
The new iPhone 7 and 7 Plus has stirred excitement levels as it arrives with water-resistance, for the first time, as well as the controversial removal of the 3.5mm headphone jack. The 7 Plus also comes with dual-lens 12MP cameras and both come with its new flagship jet-black colourway.