Iran earthquake death toll crosses 200 as authorities continue rescue work
Tehran has declared three days of mourning as rescue and relief operations continue.
The death toll in the deadly 7.3 magnitude earthquake that struck the Iran-Iraq border area on Sunday (12 November) night has crossed 200 in Iran. Authorities have added that nearly 1,700 people are reported injured.
Tehran has declared three days of mourning as rescue and relief operations continue. At least 14 Iranian provinces have been affected by the earthquake, the semi-official Iranian ILNA news agency reported.
Iran's Press TV quoted deputy health minister Qassem Jan-Babayi as saying on Monday morning that 164 people were confirmed dead and another 1,568 people were injured.
Later, the death toll was revised to 211, with authorities in Kermanshah province in west Iran saying they have already recovered 207 bodies.
National Disaster Management Organisation of Iran reported power outage and disruption in internet services in the province, which was the most affected.
Mojtaba Nikkerdar, the deputy governor of Kermanshah province, said late on Sunday that nearly 129 people were killed in the province alone and more than 900 injured. The province's Sarpol-e Zahab town has reportedly suffered maximum casualties, local news agencies stated.
"There are still people under the rubble. We hope the number of dead and injured won't rise too much, but it will rise," Nikkerdar said and added that the exact extent of damage and deaths could be known only after several hours.
Leader of the Islamic Revolution Ayatollah Seyyed Ali Khamenei urged all Iranian officials to rush to the affected area and use all their capabilities to minimise fatalities. He also called on the armed forces to assist the relief and rescue operations.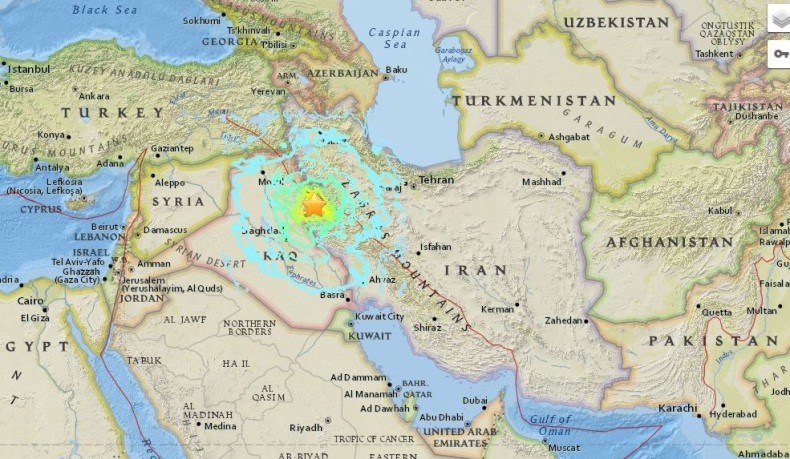 The powerful earthquake was centered around 350km north of Baghdad, according to the US Geological Survey. The tremors were felt across Iraq and in parts of Pakistan, Lebanon, Kuwait, Jordan, Saudi Arabia, Qatar, Bahrain and Turkey.
The epicentre of the tremor was some 103km southeast of the Iraqi Kurdish city of Sulaymaniyah, and 31km outside the eastern Iraqi city of Halabja, the USGS added.
The town of Darbandikhan, located 75km east of the city of Sulaimaniyah in the semi-autonomous Kurdistan Region in Iraq, reportedly suffered maximum damage. However, no casualty figures were available from Iraq.
The country's meteorological organisation, meanwhile, issued a warning on Iraqi State TV urging citizens to stay away from buildings and avoid using elevators.
The earthquake on the Iran-Iraq border was reportedly followed by several aftershocks, including two 4.9- and 4-magnitude tremors.
Meanwhile, another powerful earthquake of 6.5 magnitude hit Costa Rica late on Sunday night local time. The quake was centered 16km southeast of the town of Jaco, located about 100km southwest of capital San Jose, according to USGS. No tsunami warning was issued immediately after the quake.