Isis 'blows up' Mosul mosque where Abu Bakr al-Baghdadi declared caliphate
The Iraqi Army say that Isis 'blew up' the mosque as their forces advanced in the embattled city.
Islamic extremists Isis have 'blown up' the famous Great Mosque of al-Nuri in embattled Mosul where they declared their 'Caliphate' in 2014, say Iraqi authorities.
Isis warlord Abu Bakr al-Baghdadi used the mosque's pulpit to deliver a speech that shook the world after the Islamic fundamentalists took over large swathes of Syria and Iraq.
The US-backed Iraqi Ministry of Defence say that the mosque, believed to have been constructed in the 12<sup>th Century, was destroyed as their forces advanced in the Old City area of Mosul.
The area is seeing some of the fiercest fighting for the city, once the largest under Isis control in Iraq, as fighters dig in eight months after an advance on the city was announced.
Staff Lieutenant General Abdulamir Yarallah, the overall commander of the Mosul offensive, said in a statement that Isis destroyed the mosque and iconic leaning minaret by detonating explosives inside the mosque.
"Our forces were advancing toward their targets deep in the Old City and when they got to within 50 metres (yards) of the Nouri mosque, Daesh (IS) committed another historical crime by blowing up the Nouri mosque and the Hadba" mosque," he said.
In response to the claims made by the Iraqi Army Isis released a statement on their news outlet Amaq claiming that a US aircraft destroyed the mosque.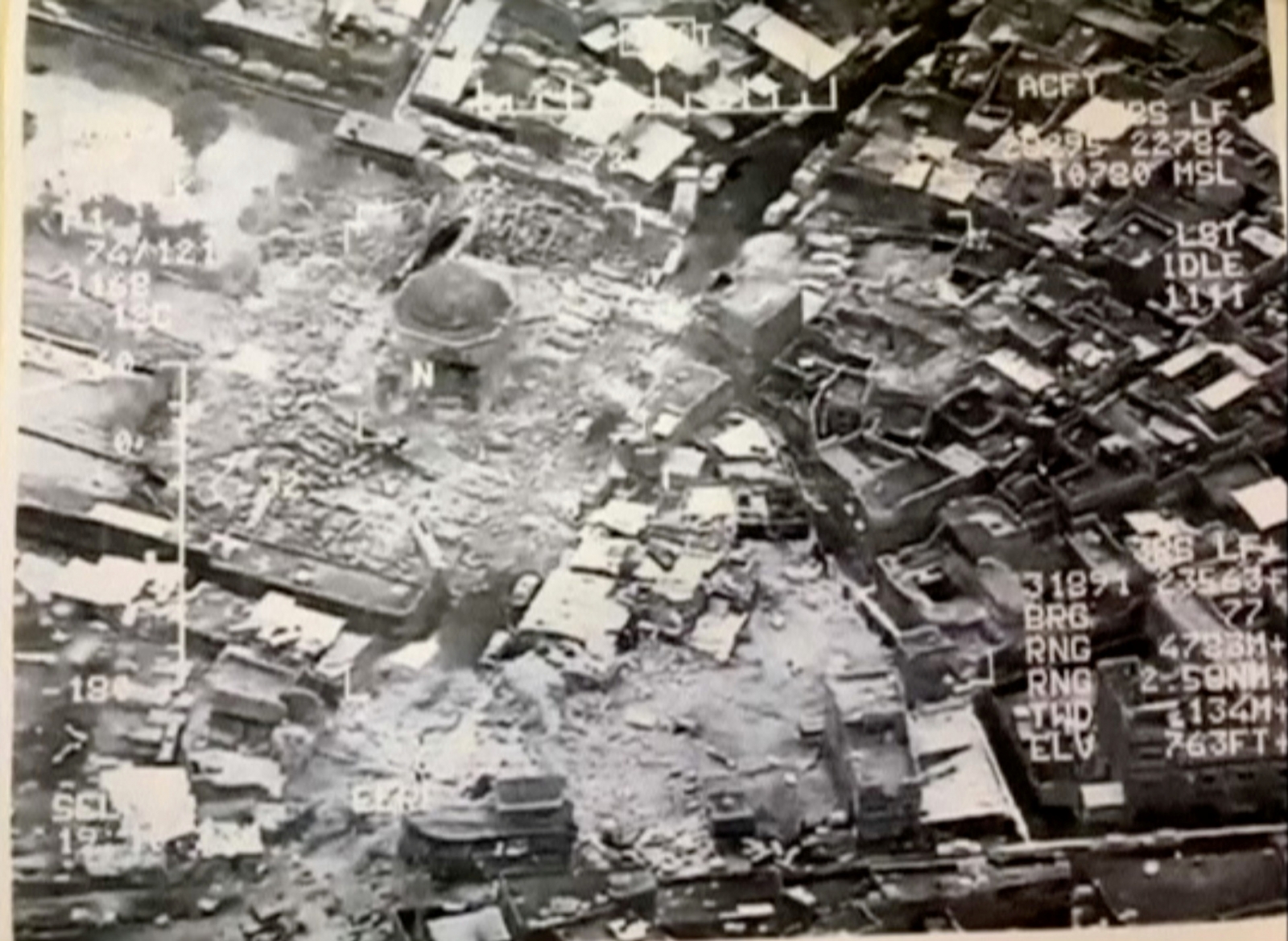 The BBC reported that the commander of the Iraqi forces said his soldiers were 15m from the mosque earlier in the day.
It is not clear if the mosque is beyond repair or completely destroyed in a district where an estimated 100,000 civilians could be holed-up and could be used as human shields, according to the UN.
The operation to re-take the city - that was overrun by the extremists in a lightning advance in June 2014 - began on 17 October last year with Isis murdering thousands of civilians for attempting to flee.
Al-Baghdadi gave a Friday sermon from the pulpit inside the mosque which became his first public appearance in many years, and the last time he was captured on video by the west.
The operation has been supported by Kurdish Peshmerga fighters, Sunni Arab tribesmen and Shia militiamen.
The city, once of 1.5million people, has seen an estimated 850,000 people flee and the Russian military say that they believe that they killed al-Baghdadi in neighbouring Syria.