Germany is planning to open a trauma centre to assist women and girls who were raped by members of terror group Islamic State (Isis).
Development Minister Gerd Müller told German newspaper Bild that the decision followed his visit to Iraq, where militants have imposed their own laws in controlled areas.
During his visit, Müller said he spoke with five girls who had been sexually abused by the militants, three of whom became pregnant.
"We have to take care of such girls," he said and added that a facility could provide assistance to at least 100 girls, but did not speculate on when or where the facility could be opened.
IS insurgents, who control large swaths of Iraq and Syria and aim to establish an Islamic caliphate, are known for having launched a "campaign of ethnic cleansing" against non-Arabs and non-Sunni Muslims.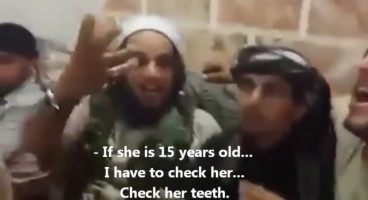 The Yazidi community has been persecuted by the militants for months.
Yazidis are considered devil-worshippers and apostates by the Sunni extremists as they profess a religion that dates back to ancient Mesopotamia and combines elements of Zoroastrianism with Sufi Islam.
In October the terrorists admitted they are kidnapping hundreds of Yazidi women and forcing them into sex slavery.
IS slave markets have sprung up across Iraq and have been used by the terror group as a way to recruit new fighters.
A Yazidi woman who was abducted by IS and forced into sex slavery, managed to contact members of Compassion4Kurdistan - which aims to raise awareness of IS' persecution of the Yazidi community in Iraq - to tell her story of the abuses she is subjected to daily.
Compassion4Kurdistan activists staged a mock sex slave market in London in October, to raise awareness of the grave violations of the basic human rights Yazidi women are being subjected to.
The manifestation came as UN officials issued a joint statement condemning "the explicit targeting of women and children and the barbaric acts the Islamic State has perpetrated on minorities in areas under its control."
"We remind all armed groups that acts of sexual violence are grave human rights violations that can be considered as war crimes and crimes against humanity," said the UN statement, which followed a UN study about IS sex slavery markets.
In December, IS members allegedly released a guide on how to abduct and rape non-Muslim women.
The encouraged practises include permission to rape a female captive "immediately after taking possession of her" and to have "intercourse with the female slave who hasn't reached puberty if she is fit for intercourse".