An Islamic State (Isis) supporter from Luton is among five jailed for inciting terror after an undercover police officer heard one extremist commenting about '40 trucks of explosives in Oxford Street'.
The men were said to have been closely linked to firebrand hate preacher Anjem Choudary and his banned al- Muhajiroun group, as they were jailed at the Old Bailey on Friday 10 February.
Judge Michael Topolski QC praised the undercover officer saying he displayed "considerable resourcefulness and even greater courage" when he infiltrated the group of British extremists who held meetings behind an Anglican church to recruit for Isis.
The policeman, known only as 'Kamal' had lived with them for 20 months, recording them all along.
The gang were adjudged to have incited violence during regular meetings in a marquee at St Margaret's Methodist Church in Luton, where Mohammed Choudry was heard speaking about "40 trucks driving down Oxford Street full of explosives" in July 2015, the Old Bailey was told.
Attended by up to 80 people, including young children, the group praised the barbarous Isis and urged people to support the terrorists, even encouraging them to travel to Syria to join their fight.
Mohammed Choudry, 23, was also heard saying: "A wave is coming - either be a part of it or you drown ... Either you like it or you don't like it."
Among attendees at meetings was Junead Khan, 25, who was jailed for life for plotting to kill a US soldier in the UK. His uncle, Shazib Khan, 23, was handed a 13 year sentence for his plans to travel to war-torn Syria.
Mohammed Choudry, from Maidenhead, was found guilty of encouraging support for the extremists and jailed for four years.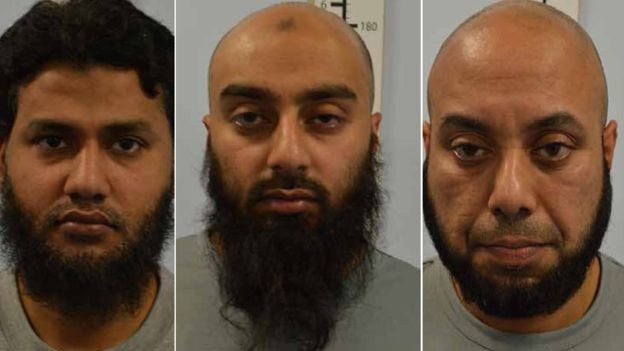 Ziaur Rahman, 39, who helped to organise the meetings, was sentenced to two years and six months. Mohammed Istiak Alamgir, 37, Yousaf Bashir, 36, and Rajib Khan, 38, all from Luton, were also convicted of spreading the Isis ideology.
Alamgir got six years, Bashir was handed a four-and-a-half year sentence and Khan was jailed for five years.
According to the Daily Mail, Judge Michael Topolski QC, said of the undercover officer: "Given the nature and activities of this group and some of those associated with it, it is not difficult to imagine what fate might have befallen him had he been exposed.
"Both he and those responsible for him should be proud of what he did. He is a credit to the Metropolitan Police."
Judge Topolski said the defendants caused the "radicalisation of the young and impressionable" and had crossed the line between the lawful expression of opinions and beliefs and the "crime of encouraging support for a blood thirsty terrorist organisation, which will not stop short of barbarity in its desire to impose upon the unwilling its corrupted version or a great and noble religion."