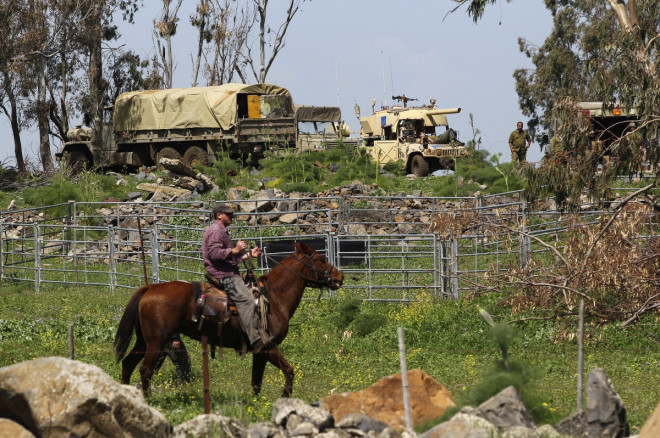 Israel has launched air strikes on Syrian army positions in retaliation to explosions in Golan Heights near Syrian border, which had wounded four of their troops.
The Israeli military said that Syrian military headquarters and a training facility were among the targets on the Syrian side of the Golan.
Airstrikes against the Syrian military sites were carried out at night, and perhaps mark the most severe intensification of combat since 1973, along the ceasefire line between the two countries.
"A short while ago the IDF targeted several Syrian army positions which aided and abetted the attack against IDF personnel yesterday," the Israeli military said in a statement.
Israel believed that their troubled neighbour was behind the bomb attack which had injured their soldiers, and launched air raid against Syria about 12 hours later.
Defence Minister Moshe Yaalon had said in a statement that Damascus would pay a "high price" for abetting militants seeking to harm Israel.
Lieutenant-Colonel Peter Lerner, military spokesman, said that they were caught unawares by the roadside bombing executed by Syria. The troops had noticed a "suspicious movement" along the border, and were taken off-guard by the blast as they neared to investigate.
Parts of Syrian-held Golan Heights are controlled by rebels and al-Qaeda backed militants up in arms against Israel, according to Al Jazeera.
However, according to Israel, the Lebanese Hezbollah militant group that is helping Syrian President Bashar al-Assad to fight against the rebels was behind the border explosion.
"We see the Syrian army as responsible, and that is indicated by our response to the attack," Lerner said.
"We hold the Assad regime responsible for what happens in its territory and if it continues to collaborate with terrorists striving to hurt Israel then we will keep on exacting a heavy price from it and make it regret its actions," Yaalon had said.
Prime Minister Benjamin Netanyahu had on Tuesday warned that Israel would act "forcefully" to defend itself following the Golan attack.
Israel annexed Golan Heights in the 1967 Middle-East War, and had successfully repelled Syrian forces attempting to take back the strategically important region in 1973.
Netanyahu earlier had said that the border region was teeming with jihadi forces from the Lebanese Shia Islamist movement, antagonistic to Israel's interests.
Since the Syrian uprising began three years ago, the two countries had frequently exchanged fire across the ceasefire line over reports of Syrian and rebel fighters barging into the Israeli side.
This is the third time in a fortnight that the Israel's military has blamed the Syrian army for perpetrating attacks from the other side of the border.
Israel said there had been two previous attempts this month by "Hezbollah-affiliated terrorists" to plant bombs near the border fence to attack the troops.