Up to 30 people are feared dead after an avalanche believed to be triggered by an earthquake hit an Italian hotel. "There are many deaths," Antonio Crocetta, the head of a mountain rescue team, told Italian news agency Ansa.
Up to 30 people were believed to be in the luxury resort Hotel Rigopiano in the town of Farindola on the Gran Sasso mountain in the central Abruzzo region when the earthquake struck on Wednesday night (18 January).
According to local reports, the hotel had partly collapsed and was buried by snow.
Two survivors have been found by rescuers at the site, with both reportedly outside the building when the avalanche struck.
A snowstorm and blocked routes meant rescuers struggled to reach the hotel, with the first arriving on skis at 4am local time (3am GMT) on Thursday. SkyTG24 television said some dead were found inside the three-story building.
Rescuers said there were 20 tourists and seven staff among those in the hotel when it was struck by the avalanche .Pictures from inside the building show corridors filled with ice and rubble.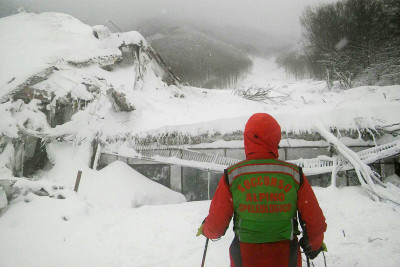 A series of strong earthquakes hit Italy on Wednesday. Four quakes of magnitude 5.2 and higher struck near the hill town of Amatrice, some 100km (60 miles) north-east of Rome, in a space of only four hours.
Much of the area was abandoned after being seriously damaged in earthquakes last August, in which 298 people died.