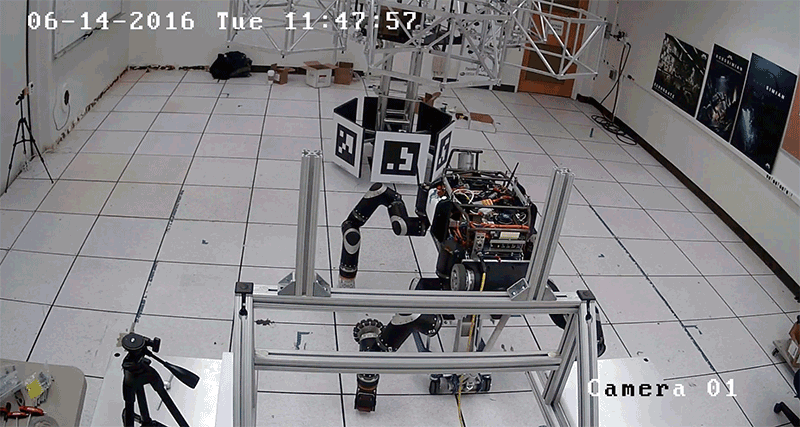 When roboticists at Nasa's Jet Propulsion Laboratory (JPL) in California replaced a lithium ion battery in their robot and then went off for lunch, they didn't expect it to suddenly explode.
Nasa's Office of Safety and Mission Assurance (OSMA) is emphasising just how dangerous lithium ion batteries can be in a new safety message. It comes on the back of recent drama around the Samsung Galaxy Note 7 catching fire in September, then their replacements catching fire in October, prompting a global recall of the South Korean smartphones.
Nasa says that lithium ion batteries are essential to powering everything from payloads, launch systems and drones to laptops, mobile phones and test sets across the US space agency. But despite being as careful as possible, in the last decade Nasa has seen at least four lithium ion battery failures, as well as multiple close calls that could have posed a danger to employees.
One such incident happened on 14 June 2016. Roboticists at JPL were preparing to ship RoboSimian, a new waist-high robot designed to rescue people in emergencies that human rescuers can't handle.
The researchers switched the large 96-cell battery for a new one and then left it in the laboratory to charge. While they were gone, the battery overheated, began smoking and burst into flames, causing a huge explosion.
Nasa's internal investigation found that the battery had been overcharged because one of its cells was damaged and sent incorrect information to the charger's monitoring system, so the electrical current continued to be sent even when it hit the maximum voltage.
Greater care needed with lithium ion batteries
The space agency has now decided to review how and where large custom lithium ion batteries are charged, and make sure that hazard and risk assessments are properly conducted, as well as making sure that newly purchased batteries are safe.
Samsung phones only come with a single-cell battery, so although dangerous, if it explodes, the potential damage would still be far less than the RoboSimian's battery. This is a big deal because Nasa uses lithium ion batteries for its robots and spacecraft, so it would be pretty devastating if whole sets of cells suddenly exploded.
You will almost certainly not have to handle many lithium ion battery cells, but it is still important to be very careful with them.
UK professional drone training firm ConsortiQ's training manager Bryce Allcorn recently showed IBTimes UK how to store and transport lithium ion batteries for consumer drones, as part of training us to fly drones commercially in the UK.
Although accidents rarely happen, Allcorn, who is also a retained crew commander with Hampshire Fire and Rescue Service, has seen first-hand the danger lithium ion batteries can cause.
Here are some key tips to staying safe with lithium ion batteries:
Never leave lithium ion batteries alone when they are charging
Transport lithium ion batteries in a fire containment bag
To be extra safe, store the batteries in a ceramic flower pot or a steel box when not in use or in transit