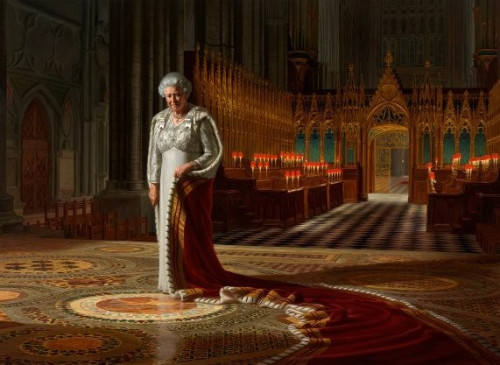 A Fathers for Justice protester who daubed graffiti on a painting of the Queen has started a hunger strike from his prison cell.
Tim Haries was sentenced to six months behind bars after he was found guilty of daubing the word "help" in purple paint across the Ralph Heimans painting.
The electrician, from Doncaster in South Yorkshire, who is now 48 hours into the strike said the protest is against what he claims was a politically motivated custodial sentence, which he said was at odds with the sentencing recommendations by the probabtion service.
In a statement the 42-year-old said: "I Timothy John Haries hereby declare, that the Judge's decision to ignore the Probation Service's recommendation of a Community Service Order and replace it with a custodial sentence leaves me with no alternative than to enter an immediate hunger strike.
"I consider that as the custodial sentence is well outside of the Probation Service recommendations, this can only be a political motivated decision. I therefore now regard myself as a political prisoner.
My only crime is fight to see my two daughters whom I love dearly, after being ordered to abandon them by the Family Courts. My children and I have done nothing to warrant such treatment by the courts and our government.
"I have today made a final application to the Family Courts in an attempt to re-unite Katie and Scarlett with their father whom they have not seen or spoken to now for over four years.
"My fast will continue until this application is granted. Until this application is granted I will accept nothing but water, no food, sugar, glucose, vitamins, supplements etc. I hereby insist that any medical examinations are conducted by an external and independent doctor."
Police were called to Westminster Abbey in June last year where security guards had detained Haries for defacing the painting.
He was arrested by police on suspicion of criminal damage and taken to a central London police station.
At the time an Abbey spokesman said: "Until work can be done to remedy the damage it will, very regrettably, not be possible to have the painting on public view."