One of the jailed members of Russian feminist punk band Pussy Riot was staging a hunger strike in protest at the "slave-like" conditions she endures and claims that she has received death threats from prison staff.
Nadezhda Tolokonnikova, 23, who is serving two years in jail on religious hooliganism charges, claimed that she was being made to work up to 17 hours a day at Penal Colony No 14 in the Mordovia region, 300 miles east of Moscow. Her job was sewing police uniforms.
In a letter published on the group's blog, Tolokonnikova said that guards allowed prisoners to beat each other in the face and kidneys. She claimed that inmates were fed rotten food and were deprived of basic hygiene facilities for weeks at a time.
"I am going on hunger strike. This is an extreme method, but I am convinced that it is my only way out of my situation," Tolokonnikova wrote.
"The penal colony administration refuses to hear me. But I, in turn, refuse to back down from my demands. I will not remain silent, resigned to watch as my fellow prisoners collapse under the strain of slavery-like conditions.
"I demand that the colony administration respect human rights; I demand that the Mordovia camp functions in accordance with the law. I demand that we be treated like human beings, not slaves."
Tolokonnikova was one of three member of Pussy Riot jailed for performing their anti-Vladimir Putin 'Punk Prayer' in Moscow's main Orthodox cathedral in February 2012.
Yekaterina Khrunova, Tolokonnikova's lawyer, confirmed that her client was staging a hunger strike and would file an official complaint with the prison authorities' investigative committee alleging that a deputy director at the colony threatened her life when she tried to complain about conditions.
"My brigade in the sewing shop works 16 to 17 hours a day from 7.30am to 12.30am," Tolokonnikova said. "At best, we get four hours of sleep a night. We have a day off once every month and a half. We work almost every Sunday."
The deputy director told her that her team would be required to work only eight hours a day but would still be expected to meet their required targets - a feat she deemed "physically impossible".
Tolokonnikova said it would mean punishment for not meeting their quota. She then claimed the deputy told her: "If anyone finds out that you're the one behind this, you'll never complain again. After all, there's nothing to complain about in the afterlife."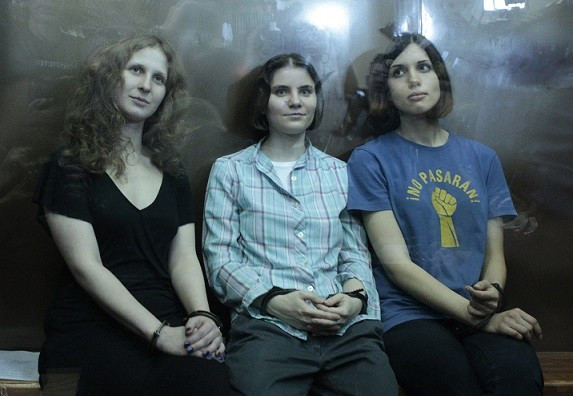 Tolokonnikova described how the living conditions at the prison were "calculated to make the prisoner feel like a filthy animal without any rights".
"Although there are 'hygiene rooms' in the dormitories, there is also 'general hygiene room' with a corrective and punitive purpose.
"This room has a capacity of five; however, all 800 colony prisoners are sent there to wash themselves. We do not have to wash ourselves in the hygiene rooms in our barracks - that would be too easy. We are allowed to wash our hair once a week. However, even this bathing day gets cancelled.
"A pump will break or the plumbing will be stopped up. At times, my unit was unable to bathe for two to three weeks."
While she said that she had not been beaten - partly due to her international fame - she said that attacks occurred with the "approval and knowledge of the administration".
She said she saw a fellow inmate stabbed in the head with a pair of scissors for failing to meet a work deadline and another attempting to cut her own stomach open with a hacksaw before staff stopped her.
A prison official denied all of her claims. The alleged death threat against her was "absurd", the official said.
Fellow jailed Pussy Riot member Maria Alyokhina went on an 11-day hunger strike against conditions in her prison camp in June. Both women are due to be released in March.