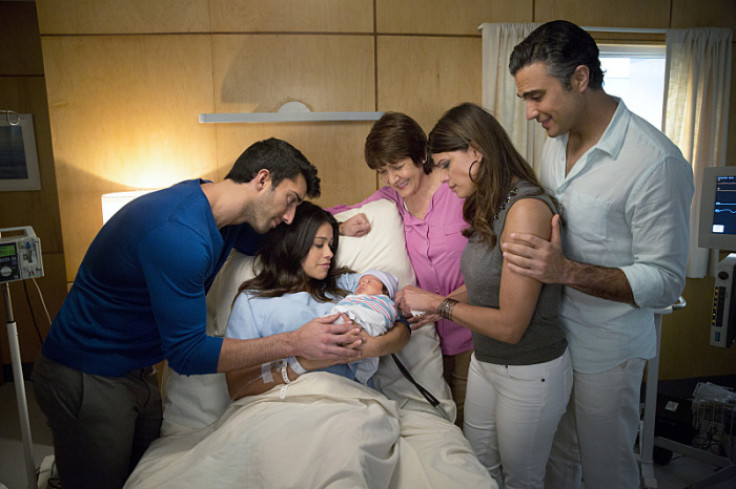 The season 1 finale of Jane the Virgin ended in a shocking cliffhanger, when Jane's new born baby, was kidnapped at the end of the show.
In Chapter 22, Jane gave birth to a baby boy, whom she named Mateo Gloriano Rogelio Solano-Villanueva.
The finale of season 1 also featured an impromptu wedding, that of Jane's mother Xiomara (Andrea Navedo) and her biologial father Rogelio (Jaime Camil) who get hitched in Las Vegas after getting heavily intoxicated. But later, recall nothing of what transpired.
Post that, there was reconciliation of a sorts between Jane with Rafael – her child's biological father – as well as her former fiancé Michael, both of whom want to be with her.
To add to the already complicated situation, another sperm sample of Rafael comes into the possession of his estranged wife Petra (Yael Grobglas), who plans to use it to blackmail him into getting back with her.
Meanwhile, the show's executive producer Jennie Snyder Urman spoke about Mateo's abduction and what fans can expect in the next season.
Urman told Deadline, "That was the clip [kidnapping scene] that we were building to from when we began this show. There's a specific reason that she is taking the baby. We'll find out what it is right when we come back in Season 2 because we pick up pretty continuous. You find out what she wants and what it will take to get the baby back."
The producer also spoke about season 2 and plans for Jane in season 3.
"We've spent time in the writers room with the writers, and we went through most of Season 2 and how it led us to a Season 3, knock on wood, " Urman said.
"We have that because you like to leave things that launch the story into the next area. You know, you get a little nervous at the beginning of a season because you think, oh there's just so much material, especially for 22 episodes," she added.
"But we know what are we going to do, and I hope people like it. Now, It's how do three very strong women raise a boy? That seems like an interesting journey for the second season," she stressed.
Click here to watch the season 1 finale of Jane The Virgin online.
Here are a few twitter reactions over the finale shocker.