Six people have been reported dead due to landslides and floods after heavy rains lashed southwestern Japan, which authorities say has become prone to mudslides following two major earthquakes in April. A university student was also reported missing on Wednesday (22 June).
Kumamoto and neighbouring Miyazaki Prefecture on the southwestern main island of Kyushu have experienced more than 100mm of rain in the past couple of days that has triggered landslides and floods.
Issuing warnings of further rain and thunderstorms on Wednesday, the Japan Meteorological Agency cautioned against "ground-loosening" and "inundation". The agency said they recorded "150mm per hour of rain around midnight Monday [20 June]" in Kosa, Kumamoto Prefecture, which is equal to the fourth highest rainfall recorded in Japan. The prefectural government has reportedly issued landslide alerts to all its municipalities.
Among those dead were a 92-year-old and a couple aged over 80 in Kumamoto, a 79-year-old in Kosa, a 66-year-old man and a 53-year-old in Uto.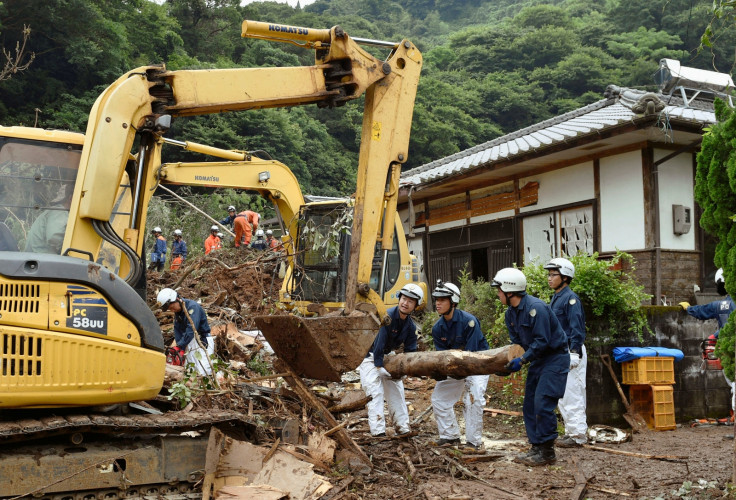 Japan Today reported that authorities in the village of Minamiaso and Mashiki town that were hit hard during the April quakes have issued evacuation orders to over 38,000 residents in the two areas. Southern Japan was hit by two major earthquakes of magnitude 6.5 and 7.3 between 14 and 16 April that left scored dead.
The quakes followed by aftershocks loosened the soil causing mudslides in the rain-hit areas. A fresh aftershock was also felt on Wednesday morning, Reuters reported.