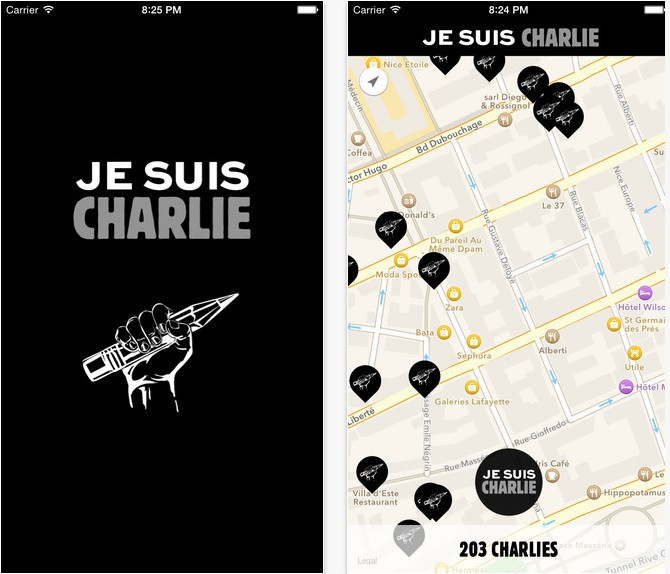 A personal email to Apple CEO Tim Cook saw the Je Suis Charlie iPhone app approved for the App Store in less than an hour - a process which normally takes up to two weeks.
Following the mass shooting, which saw 17 people killed, including 12 at the Paris offices of satirical magazine Charlie Hebdo, two application developers created a simple app where iPhone users can check-in to their current location and share the 'Je Suis Charlie' message of solidarity.
It was hoped the app would provide a digital, global representation of the millions of people who gathered on the streets of Paris to protest against the attack last weekend.
Where iPhone and iPad applications usually take between 10 and 15 days to appear on the App Store after they've been submitted to Apple, the Je Suis Charlie app appeared in less than an hour, thanks to an email sent to Cook.
On 9 January, two days after the attacks began, the two developers sent an email to Cook and said they were contacting him "without much hope," yet just 10 minutes later an assistant of the CEO replied saying: "Good idea guys, we follow you!"
On Apple's advice, the pair then contacted French news agency Nice-Matin, which published the app on their behalf.
Within an hour, the Je Suis Charlie application was available to download, and at the time of publication it has been logged into by more than 118,000 people from all over the world.
The Je Suis Charlie Twitter hashtag appeared in 3.4 million tweets within 24 hours of the attack on 7 January and at its peak was being tweeted more than 6,000 times a minute. Apple and Google have both added the Je Suis Charlie message to the foot of their French websites.