With winter looming large over Winterfell, it appears another fan favourite character is set to say goodbye forever. Actress Maisie Williams has some words of caution for her fans regarding her character Arya Stark's fate in Game of Thrones season 7.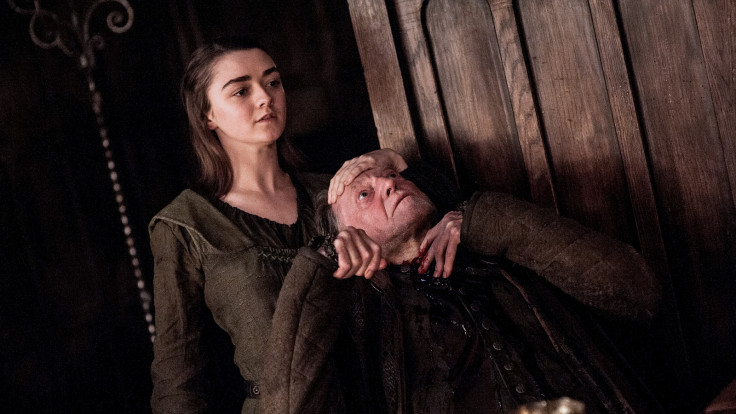 The English actress, who stunned on the red carpet at the SAG Awards in Los Angeles on Sunday (29 January), teased that Arya may not make it till the end of the series. "I'm just trying to do the last few scenes that I have justice. I'm just trying to shape Arya the way that I have been so far, and give her a nice arc to end with, and hope the people are happy with it," she said during her interview with Entertainment Tonight.
The 19-year-old actress also opened up about her insecurities. GoT will last only two seasons more. "It has been my security blanket and it's been a safety net. If I haven't worked, or if I haven't landed a role, I never beat myself up too much, because I've always got Game of Thrones," she explained.
"To not have that around is going to be really strange, but it's also really exciting. It means I can now shape my career and I'm not tied down to anything, and I can really make bold decisions," Williams added.
In season 6, Arya emerged as a fierce faceless assassin as she disguised herself as a serving girl and killed Lothar Frey and Black Walder Rivers before serving their dismembered bodies in form of a pie to Lord Walder Frey. She later killed Walder and avenged the brutal murders of her mother Catelyn Stark, brother Robb and his pregnant wife.
According to few previously leaked images and script details, Arya will reunite with her siblings, Bran and Sansa in Winterfell. It remains to be seen, how she avenges her father Ned Stark's beheading by the Lannisters and how her character ends in the blockbuster fantasy series from HBO.
Game of Thrones season 7 is still months away from its grand premiere as the show is scheduled to return during summer of 2017.