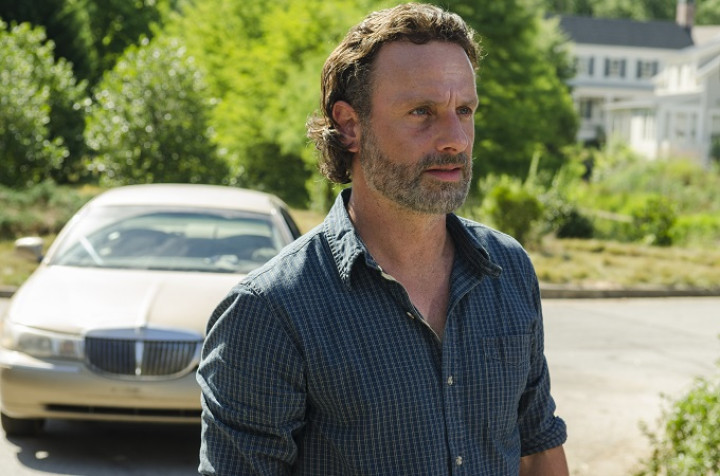 The menace created by Negan in the premiere episode of The Walking Dead season 7 left Rick Grimes helpless as he surrendered himself to the cruel Savior leader, who bludgeoned Glenn and Abraham to death. But according to showrunner Scot Gimple it is time for the disgraced Alexandria leader to smile again.
"It propels us into a very different half season from the one before it. Before the end of that very first episode back, you will see Rick Grimes smile," Gimple told Entertainment Weekly. The news bestows new ray of hope for TWD fans who wanted to see their favourite character rise and fight the mayhem created by Negan.
Rick suffered devastating losses in the previous episodes, but as Daryl Dixon is back from the Savior dungeon, and with Michhone pouring her unconditional love and support, he will sure get some encouragement. According to the latest promos, Andrew Lincoln's character will rise with hope and plot the perfect plan to defeat his enemies.
Planning ahead of an attack is not something that Rick would do, he is in fact who famous for abruptly killing his enemies. But considering the deadly outcome of his haste in the previous seasons, it seems that he will rid himself of the habit and attack Negan in a comprehensive manner. And if Gimple's hint can be considered, Rick may even succeed in doing so and enjoy the last laugh.
His team is already planning and is seeking an alliance from fellow survival groups including King Ezekiel's Kingdom and the Hilltop. Gimple further teased that the upcoming midseason premiere episode will be like a movie. "The midseason premiere is a movie unto itself. Angela Kang wrote it, Greg Nicotero directed it, the cast knocked it out of the park — pretty much literally, you'll see — and the crew pulled it all together, and it was a hell of a lot to pull together," he added.
The Walking Dead season 7 will return on AMC on 12 February.