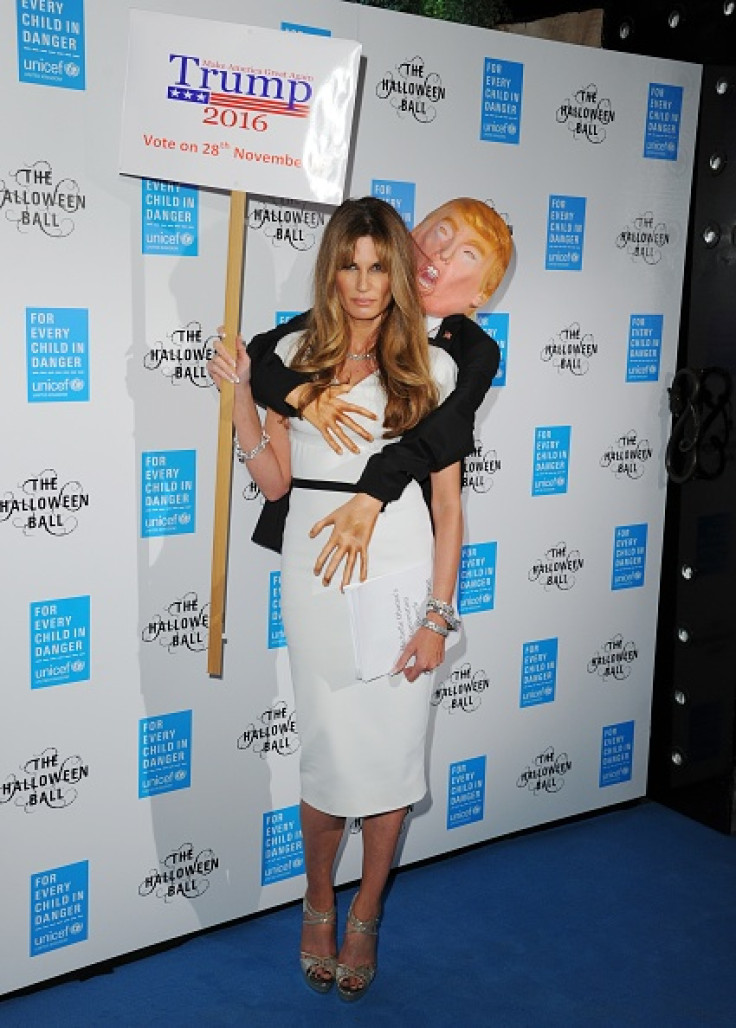 While Donald Trump has been protesting his innocence in the face of mounting accusations of sexual misconduct, Jemima Khan made her feelings about the Republican presidential nominee clear for all to see.
The 42-year-old socialite and campaigner arrived at the UNICEF Halloween Ball at London's One Embankment on Thursday (13 October) night, dressed as Donald Trump's wife Melania, but with a risque edge.
While she looked uncannily like the former model, with her white dress and pouting lips, Khan made a bold statement about Trump and the allegations of sexual assault plaguing him, as she attached a Trump mannequin to her back, grabbing her inappropriately.
Showing attention to detail, in a further jibe at Melania's expense, she was also brandishing a document titled "Michelle Obama's Convention Speech', a reminder of the 47-year-old's alleged plagiarism of Michelle Obama's address to the Democratic National Convention in 2008.
In her other hand the UNICEF UK Ambassador held a cheeky placard bearing Trump's campaign slogan: "Make America great again! Trump 2016. Vote on 28th November!!!"
Melania Trump herself had condemned her husband's lewd comments recorded during an appearance Access Hollywood describing them as "offensive to me." However, she added that she accepted his apology.
While other guests attending the Alice In Wonderland themed ball included Princess Beatrice who was dressed as a cat, Rita Ora, actor James Nesbitt and model Erin O'Conner, Khan's bold political statement in the form of a Halloween costume was timed just as the GOP candidate was taking to the stage in West Palm Beach, Florida, to respond to the accusations against him.
Vehemently denying the claims made by multiple accusers, who have given accounts of being allegedly molested by him, he claimed that media outlets are in alliance with Hillary and Bill Clinton and 'smearing' him in a bid to derail his presidential campaign.
"These vicious claims about me of inappropriate conduct with women are totally and absolutely false,' he said defiantly. "And the Clintons know it. And they know it very well. These claims are all fabricated. They're pure fiction and they're outright lies. These events never, ever happened."
Earlier today (13 October), First Lady Michelle Obama slammed Trump, describing a video in which he is heard a bragging about groping a woman, as "disgraceful."
Meanwhile, Jemima Khan was winning praise on Twitter for her inventive Halloween costume.