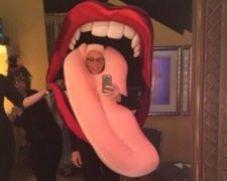 American actress Jenny McCarthy dressed up as pop star Miley Cyrus' tongue for a Halloween episode of The View.
The costume consisted of a pink tongue suit, which was supported by McCarthy's head, and was surrounded by teeth and big red lips.
Ahead of the show, the 41-year-old took to Twitter to share a picture of her outfit.
"Yes indeed I am Miley's tongue. I craved sledgehammers all day," she wrote.
Cyrus showed her approval by tweeting six tongue emojis back to the former Playboy model.
Meanwhile McCarthy's co-hosts also got into the Halloween dressing-up mood. Whoopi Goldberg dressed as Mandarin from Iron Man 3, Sherri Shepherd dressed as Khaleesi from The Game of Thrones, Barbara Walters came as Katy Perry in Roar and guest Mario Cantone came as Justin Bieber.
Cyrus set headlines after she slipped into a nude-shade plastic bikini and performed a duet of Blurred Lines with Robin Thicke at the MTV VMAs. She also placed a foam finger on her private parts as well as his.
The raunchy routine was the most talked about incident from the show, reportedly drawing 3,06,000 tweets per minute.
The outfit has already become iconic, following the controversy associated with it. Paris Hilton wore the same outfit on the Halloween celebration at the Playboy mansion on 26 October.