Jeremy Clarkson: Richard Hammond and James May 'refuse' to continue Top Gear without suspended presenter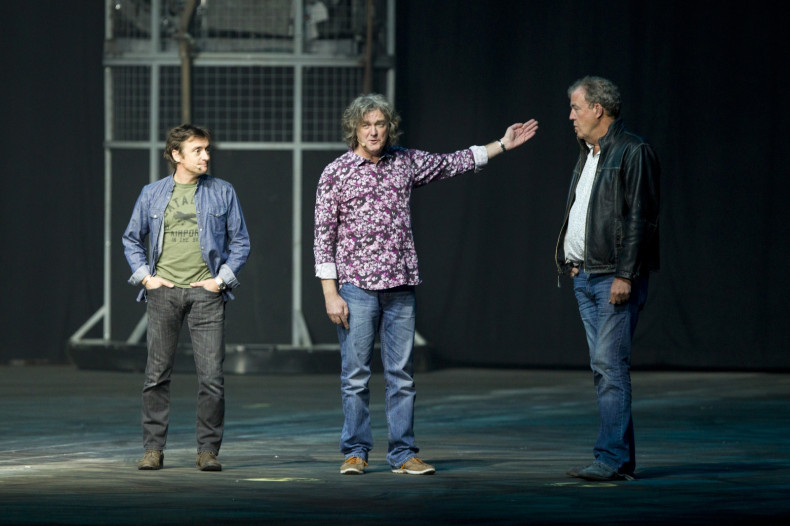 Top Gear presenters James May and Richard Hammond refused to film the remaining episodes of the series without suspended Jeremy Clarkson, according to reports.
A BBC executive claims there were discussions for the pair to continue without Clarkson for the final few episodes of the series after the 54-year-old was suspended for allegedly punching a producer.
However, both May and Hammond are said to have rejected the idea to continue on without Clarkson with episodes featuring pre-recorded material and some of Hammond and May in the studio.
A source told the Mirror: "They didn't want to do it without Jeremy so the talks didn't get off the ground.
"There is a feeling that it is all of them or none of them."
There has been much speculation on whether Top Gear would be able to continue without Clarkson should he not return from his current suspension.
Another BBC executive is said to have told the Sun: "The whole thing has been a nightmare, we just want it over.
"Our priority has to be the person who has allegedly been attacked but we are between a rock and a hard place."
Both Hammond and May have been making light hearted comments about their forced leave from the programme while the BBC deals with the alleged incident at a North Yorkshire hotel involving Clarkson and producer Oisin Tymon.
Hammond tweeted a "cryptic" message on Twitter describing how the job was "in the holding pattern".
His fellow presenter May also joked about how much free time he now has since Top Gear is currently off-air.
He later added: "Seriously, if you really are unemployed, good luck to you. It's not funny in reality."
Spokespeople for both May and Hammond declined to comment on the claims from the unnamed BBC executive.
A BBC spokesman said: "We have an investigation ongoing and we won't comment further until that is concluded."
Clarkson is alleged to have punched Tymon during a 30-minute tirade at the Simonstone Hotel near Hawes following an argument about being unable to order a steak. Clarkson also allegedly called the producer a "lazy, Irish c**t" before hitting him.
A petition calling for him to be reinstated to the BBC has attracted nearly one million signatures.