Newly-elected Labour leader Jeremy Corbyn has asked the government to 'open hearts, minds and attitude' in a rousing speech in Parliament Square this afternoon (12 September). Less than four hours after sweeping to a landslide victory the MP for Islington North joined thousands of other protesters urging for a more humanitarian and compassionate response to refugees.
Once a 200-1 outsider, Corbyn defeated Andy Burnham, Yvette Cooper and Liz Kendall in the race for the Labour leadership after securing almost 60% of the vote this morning. In his first action as Labour leader he took a cab from a pub close to the Queen Elizabeth II centre, where he was elected, to attend the Refugees Welcome march.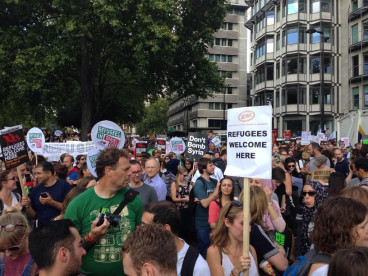 He told the crowd and the world's media gathered outside Parliament: "Today as we stand here in Parliament Square, we as ordinary decent people stand up and say to our government recognise your obligations in law that would be good, recognise your obligations to help people as you are required to do, that would be good. But above all open your hearts, open your minds and open you attitude towards supporting people who are desperate and need somewhere safe to live want to contribute to our society and want to contribute like all of us."
"Our objective ought to be to find peaceful solutions to the problems of this world. To spend our resources on helping people not hindering people and to try and bring about that world of decency human rights and justice.
"Surely we have a principle between us all that we all share the same planet. The waste of human resources by the lack of human rights is one of the great crimes of the last century."
He joined other speakers including Musician Billy Bragg, who performed at the march, civil liberties campaigners Shami Chakrabarti, Liberal Democrat leader Tim Farron and Green Party leader Natalie Bennett. Supporters were using the hashtag #RefugeesWelcome on social media during the protests.
Corbyn thanks Europe
Corbyn added: "There are more of them (refugees) now than at any other time, ever, in the recorded history of this planet they are victims of war, they are victims of environmental degradation, they are victims of poverty, they are victims of human rights abuses all over the world we have a responsibility as one of many countries which signed the 1951 Geneva Convention on the right to asylum."
He thanked Austria, Hungary and Germany for showing the way "which should be followed". And spoke of actions by previous governments that he believes have added to the "desperate situation" suffered by the refugees fleeing Syria.
He continued: "We need to spare a thought as to why people end up in such desperate situations. I've been in parliament a long time and I've seen many decisions taken and in moments of clamour and moments of further decisions are made go here, invade there, bomb there, do this, do that. There's lots of military advice and lots of simple solutions. Tragically wars don't end when the last bullet is fired."
Following his election former Labour leader Ed Miliband, former work and pensions secretary and failed leader candidate Yvette Cooper, and shadow health secretary Tristram Hunt joined a growing a growing list of senior Labour figures who have ruled out serving in Jeremy Corbyn's front bench team.