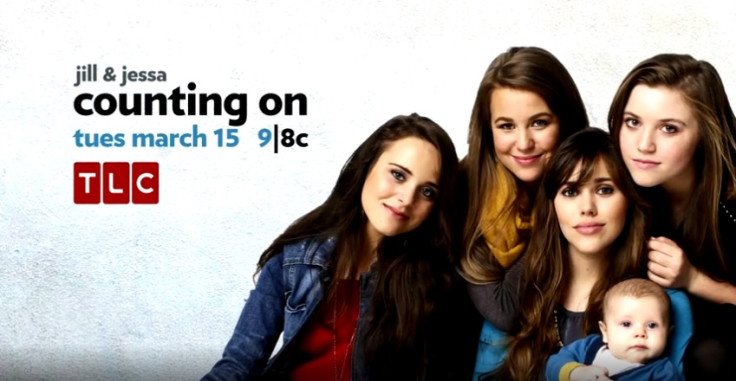 Jill and Jessa: Counting On seems to be a safe bet for TLC as the docu-series recorded massive viewership ratings despite the Josh Duggar sexual assault and cheating scandals. The show, which started as a three-episode documentary, was upgraded by TLC and premiered as a TV on 15 March.
According to Starcasm, the premiere episode managed to attract 1.9 million viewers despite the Duggar family's reduced popularity. So far, the show is focussing on Jessa and Jill, as they continue to move further in life as a mother and a missionary worker, respectively.
Jessa and Ben Seewald are enjoying their days with their new born son Spurgeon. The other Duggar siblings are keeping themselves occupied with their hobbies, while Jill and Derick Dillard are settling with their life as missionary workers.
The premiere episode brought Anna into the limelight, as she is still dealing with the scandalous revelations about her husband. She visited the father-of-four at a based rehab center in Rockford, Illinois. He had earlier admitted to cheating on her while she was pregnant with their fourth child.
"He had accounts set up on websites that were set up specifically for having an affair and cheating on your spouse, and it was just feeling like your world instantly shattered. How? Where? Why? Just all of those questions running through your mind. It was overwhelming," Anna said. She later admitted that the couple needed help separately, but later hinted that her children were missing their father.
"It's been good for our hearts for this time for each of us to get help separately, but it's also been hard. Meredith was a month old when Joshua left — now she's almost 4 months old," she said.
In the episode, the eldest Duggar daughter-in-law appeared to be a strong and confident woman, as compared to her previous desolated appearance in 19 Kids And Counting.
The upcoming episodes of the series will explore Anna's life, the courtship of a Duggar child and last but not the least Jill and Jessa's families.
Jill and Jessa: Counting On airs every Tuesday nights on TLC.