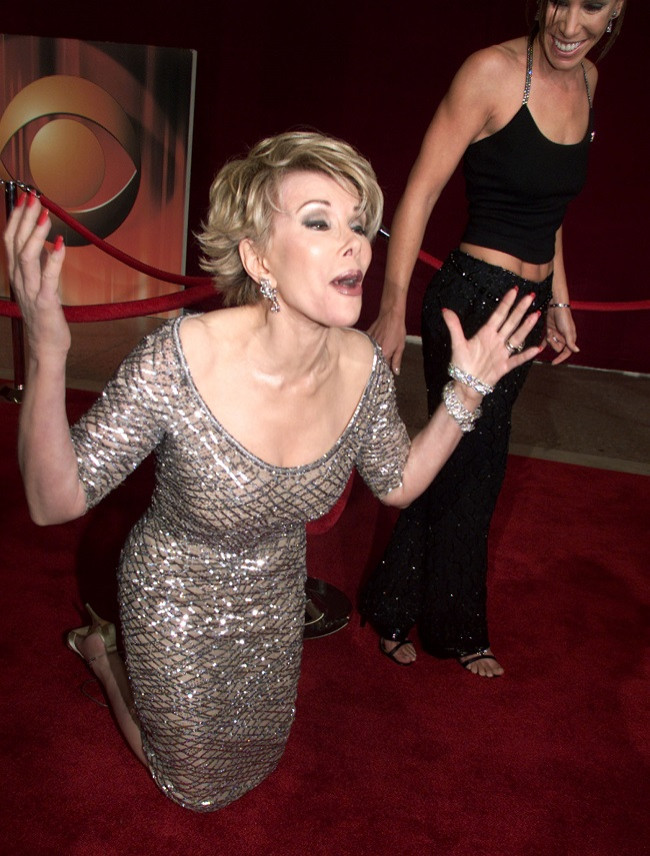 As the 81-year-old is brought out of her medically induced coma, there are concerns that the comedian's motor skills may be compromised, "leaving her either a vegetable or in a wheelchair."
Doctors treating Rivers have started the procedure to take her out of a medically induced coma by Tuesday, according to reports.
"The waking-up process has begun and will take until Tuesday," a source close to the family told the New York Daily News, adding: "There is real concern that the part of the brain that controls motor skills may have been compromised, leaving her as either a vegetable or in a wheelchair."
Melissa Rivers, who has said that she has her "fingers crossed" and is praying for her mother's recovery, is reportedly considering a lawsuit against the doctors who performed the routine medical procedure on the 81-year-old actress.
"Shock and upset is turning to anger, and they are looking for someone to blame," a source close to the family.
"She still thinks everything is going to be OK. She is refusing to admit that a world might exist without her mother in it," another source said about Melissa, adding: "Others that are close to Joan are starting to realize that the outcome they want is very unlikely."
Rivers has been kept on life support after she was put into a coma on Friday 29 August, following a cardiac arrest during a throat operation the previous day.
Rivers' friend and collaborator Jay Redack visited the comedian on Sunday and said he was shocked by her sudden health setback.
Redack said he had gone to dinner with her Wednesday night and that they had discussed the minor throat procedure she was about to have.
He said Rivers, who performed her usual acerbic comic routines that night at the Laurie Beechman Theatre near Times Square, showed no signs of illness.
The Fashion Police host had also attended both the MTV Video Music Awards and the Emmys earlier that week.