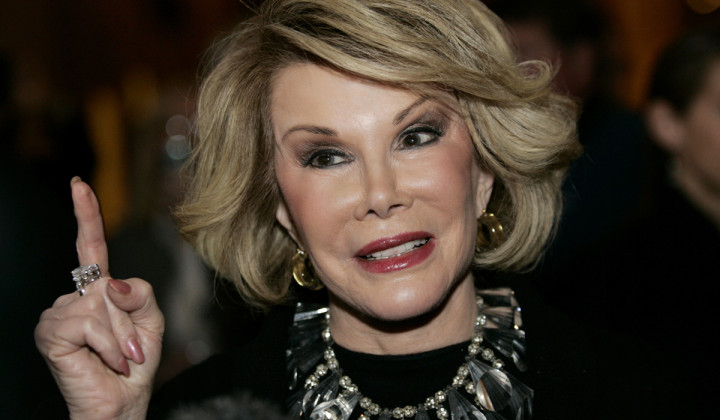 The comedian Joan Rivers, who career spanned five decades, died on Thurdsday aged 81.
"It is with great sadness that I announce the death of my mother, Joan Rivers," her daughter, Melissa Rivers, said in a statement. "She passed peacefully at 1.17pm surrounded by family and close friends."
Rivers suffered a cardiac arrest during throat surgery on her vocal cords at an outpatient clinic in New York on 28 August. She was taken to Mount Sinai hospital on the Upper East Side and was moved from its intensive care unit into a private room on Wednesday, but never regained consciousness.
Rivers was due to embark on a tour of the UK in October, beginning in Oxford, with the tongue-in-cheek title: "Before They Close the Lid".
The fourteen dates would have taken the octogenarian to London's Royal Albert Hall, Manchester's Opera House and Cardiff's St David's Hall.
The Ticket Factory, one of the main providers for the UK tickets, told IBTimes UK that refunds will be provided after confirmation from the tour promoters.
Rivers' last UK tour in 2012 saw her appear to critical acclaim in 11 sold-out shows.
The New York state health department is investigating the circumstances surrounding Rivers' cardiac arrest during the procedure at Yorkville Endoscopy.
Spokesman James O'Hare said Thursday the department is looking into "the whole matter," but declined to discuss specifics.
According to ABC News, a "full investigation" has been opened but it is a routine inquiry triggered automatically by a complication during a procedure. As of now, there is no suspicion of wrongdoing, the site reported.
Celebrities have taken to social media to post tributes to the comedian, with the hashtag #RIPJoanRivers.
Lena Dunham tweeted: "Watching Joan Rivers do standup at age 81 was incredible: athletic, jaw-dropping, terrifying, essential. It never stopped. Neither will she. I told Maron I'd have a zinger when Joan died. But I didn't think she ever would. She felt eternal, and anyway, zingers are her territory."
Kelly Osbourne wrote on Facebook: "I'm completely heartbroken by the loss of my beloved Joan. Not only was she my boss, she was and will always be my teacher, therapist, closest friend, inspiration and the only grandmother I ever knew. She was family and I will never forget her."