Joey Essex made a brief foray into politics during the 2015 general election when he grilled party leaders Ed Miliband and Nick Clegg for an ITV documentary and now the reality star has revealed that he is considering a more permanent career move. The former The Only Way is Essex star believes he has what it takes to run the world because of his connection to British Prime Minister David Cameron.
"I might as well run the world. All I'm saying is David Cameron runs the world, Joey Essex runs the world, well country," he told BANG Showbiz at the ITV Gala, held at the London Palladium.
The 25-year-old added that his opinion of politicians has changed after discovering that they are normal people. "I thought they was meant to be like kings and that and like the royal family. When you look at them they run the world almost. I'm exactly the same almost."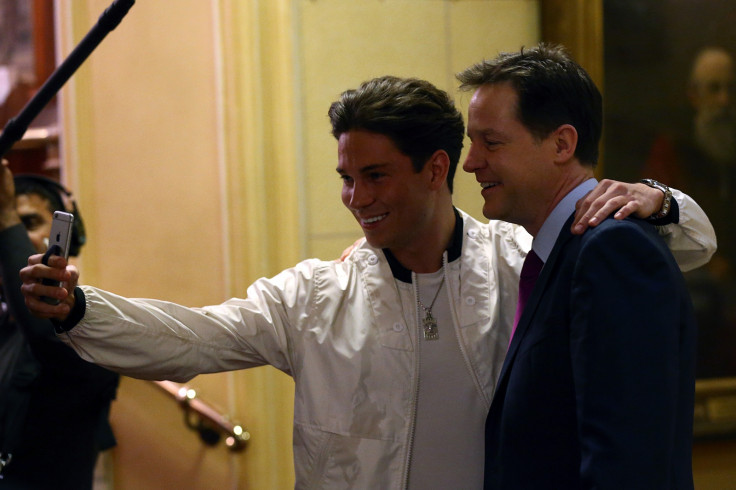 What does he plan to do if he is voted into parliament? Better shopping is just one of a plethora of ideas."There's a few things. I don't want to go into too much detail but I think people walk too slow on the streets at the moment," he said. "You know when you do shopping. There should be lanes but I'm not prime minister so I can't call that. I'd just make everyone have a reemer, life you know."
Essex is not the only person that has outlined his big hopes for the people of Britain. Back in October, rapper Kanye West, offered Mayor of London Boris Johnson some words of advice, weeks after announcing plans to run for US president in 2020.
During an 90-minute interview with fashion website SHOWstudio's In Camera series, Kim Kardashian's husband told the Conservative MP that he could stand to improve traffic flow by widening the city's notoriously narrow streets. "Widen the street, because I get really scared when the drivers (sic)... When there's a big truck coming (sic)."