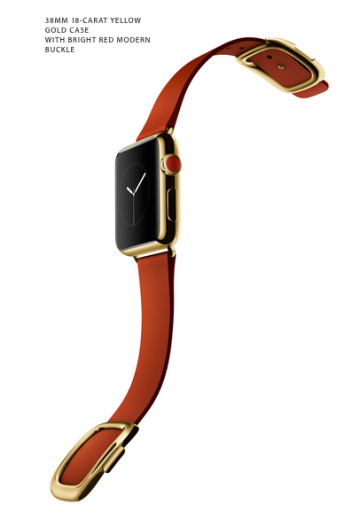 The upmarket Apple Watch Edition, with a case crafted from 18-karat gold, could cost $5000, according to Apple expert John Gruber.
At the big launch of the Apple Watch, Tim Cook announced that there will be three models, the least expensive of which – Apple Watch Sport – would be available at around $350.
The gold plated Edition model is Apple's high end smartwatch, and longtime Apple analyst John Gruber speculated that it may cost as much as $5000.
"Most people think I'm joking when I say the gold ones are going to start at $5,000," Gruber wrote in his blog. "I couldn't be more serious."
The Edition watch will cost a minimum of $2,000, Gruber said, but even that price is unlikely to be enough to cover the costs of its components.
This is much more expensive than the $1,200 TechCruch predicted earlier this week.
"Apple Watch is not a product from a tech company, and it will not be understood, at all, by the tech world," he said.
Instead this watch, much more so than the mid-range standard, will compete with actual watches.
If the gold wasn't enough of an indication, this model's elegant design indicates it has been envisioned as an alternative to Rolex, the watches of which cost tens of thousands of pounds.
Gruber said: "I think Apple Watch prices are going to be shockingly high -- gasp-inducingly, get-me-to-the-fainting-couch high -- from the perspective of the tech industry.
"But at the same time, there is room for them to be disruptively low from the perspective of the traditional watch and jewelry world."
Like Apple Pay is the tech giant's venture into internet payments, Apple Watch Edition represents its foray into luxury ware.
Although the prospect of a luxury tech watch may well prove popular with those disposed to spending thousands of pounds on accessories, questions do emerge over how Apple will deal with glitches and, more importantly, obsolescence.
A Rolex is a Rolex for life, or at least until enough diamonds have fallen off, whereas Apple Watch is likely to require updates, upgrades, and battery charging.
In any case, the tech giant has until the watch's commercial debut in early 2015 to work all this out – and figure out just how much to charge.