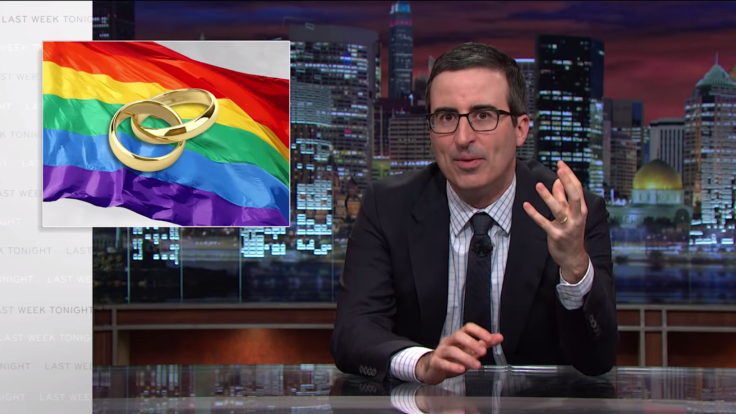 Last Week Tonight host John Oliver used his latest episode before going on hiatus to note the steps the US has made towards equality for LGBT people and to advocate for a nationwide anti-discrimination law.
Oliver discussed how in 31 states, LGBT people are still at risk of being fired, evicted or refused service merely because they are gay. "So while federal law may guarantee a gay couple's right to get married, it offers exactly zero guarantees to do the things that normally follow that," Oliver explained.
The British TV show host added that nearly 70% of Americans wrongly believe that it is illegal in the US to fire an individual for being gay. However, discrimination in the workplace for being a LGBT person is very much legal in several states.
"The problem is," Oliver said, "there are still way too many states that don't have anti-discrimination laws at all. So maybe it's time we just fix all of this, nationwide, in one go." He then added his support for the Equality Act bill, which is sitting in Congress and would add LGBT protections to the Civil Rights Act, the Fair Housing Act, among others.
"This bill represents the bare minimum of not being discriminated against, and this should be what represents the threshold of true gay tolerance," Oliver said.
Oliver went on to reach out to all of the 2016 presidential candidates to ask if they would support a federal bill that would ban discrimination against LGBT people. According to the Washington Post, he heard back from Republican candidate Senator Rand Paul of Kentucky, who said, "We'll pass, thanks."
The Wall Street Journal noted that three Democratic presidential candidates also responded to Oliver's call, Lincoln Chafee, Martin O'Malley and Bernie Sanders all said they would support the bill.
"It is long past time where gay people have the same rights that straight people have," Oliver rounded up his segment. Last Week Tonight is scheduled to return with new episodes on 13 September.