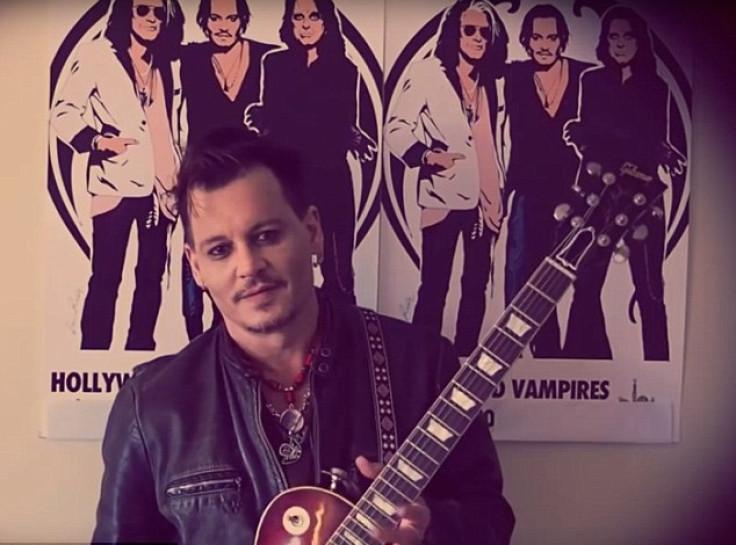 Johnny Depp has given his first interview since his sensational split from wife Amber Heard. The Hollywood star recorded a message to promote his forthcoming gig with his band The Hollywood Vampires.
In the video was posted online on Friday 3 June by Phoenix Entertainment, the star appeared to be taking a break from his marital woes as he urged his fans to attend the gig in Bucharest, Romania. Holding a guitar and smiling for the camera in front of a Hollywood Vampires poster, he said : "I'm Johhny Depp with the Hollywood Vampires. We'll be performing at the Romexpo arena. That's in Bucharest. We hope to see you there. It's going to be fun."
The Alice Through the Looking Glass star has so far not commented on his split after his estranged wife filed for divorce after 15 months of marriage and four days later took out a temporary restraining order accusing the movie star of domestic violence.
The 30-year-old actress submitted photos of her bruised cheek after alleging that her husband threw a mobile phone at her after a violent altercation in their LA home. While recounting three separate incidents of alleged abuse, Heard has also has produced text messages which she claims were sent to her from Depp's personal assistant Stephen Deuters which she alleges demonstrate that she was suffering abuse throughout her short-lived marriage.
Heard who alleges she 'lived in fear' of Depp was granted a temporary restraining order, preventing the actor from coming within 100 yards of her.
Depp's team responded to the allegations of domestic abuse, claiming that the accusations levelled at him were motivated by financial gain. The Independent reports that Depp's lawyer Laura Wasser said in a statement: "Amber is attempting to secure a premature financial resolution by alleging abuse. Her current application for a temporary restraining order along with her financial requests appear to be in response to the negative media attention she received earlier this week after filing for divorce."
While he wasn't giving anything away in the video, Depp is said to be distressed about his very public and acrimonious divorce while mourning the recent loss of his mother Betty Sue Palmer.
A source told People the 52-year-old actor is "an emotional mess", and the concert tour is giving him something to focus on. "The concerts and the tour are good for him," a source told the publication, adding: "He doesn't want to let his fans down. It's the best distraction. He is still very upset about his mom and about all the Amber drama," the source told People.
Depp has been touring Europe with Alice Cooper and their band Hollywood Vampires appearing on stage in Sweden and Denmark. He is expected to return to Los Angeles next week when the band takes three-week back before going back on the road for a 17 gig US tour, kicking off at Bethlehem, Pennsylvania on July 9 and finishing in Paso Robles on July 25.
According to E! News ,a hearing on Amber's domestic violence case against Johnny is due to take place in Los Angeles in two weeks, but Depp is not required to attend in person.