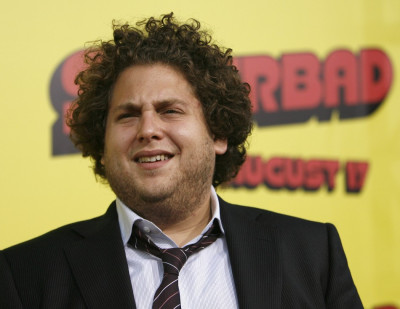 Superbad's Jonah Hill was barely recognizable when he appeared at the ESPY awards looking around 40lbs lighter than he was last December.
Jonah Hill, 27, most famous for his leading role in 'Superbad' and 'Get Him To The Greek' appeared a new man at the ESPY awards, showing off a new slim line physique.
Speaking to the Los Angeles Times about his clearly dramatic weight loss, Hill said: 'It's not fun. I wouldn't say it's the most fun endeavour I've ever took on in my life - but it's important. And I'm enjoying it.
'If I eat something unhealthy now, I kind of feel a little weird and my body hurts.'
It was revealed that Hill decided to change his body image for his role in upcoming thriller 21 Jump Street, also starring Channing Tatum.
It is estimated Jonah has lost around 40 pounds through his new diet and exercise regime involving a personal trainer.
Take a look at our slideshow to see the dramatic slide of Jonah Hill's weight, starting from the year 2007, when he first entered our screens with cult hit Superbad.