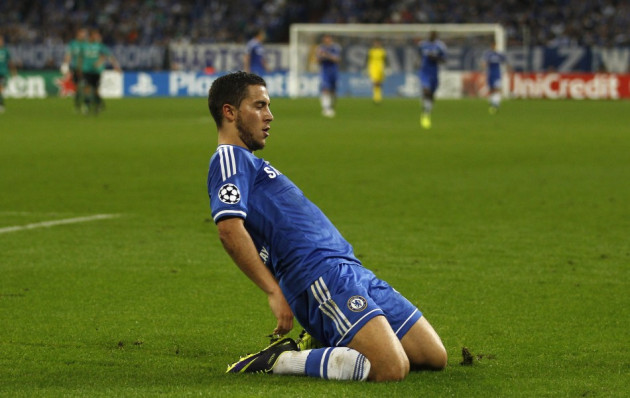 Chelsea manager Jose Mourinho has clarified the reason behind Eden Hazard's omission against Schalke 04 in the Champions League.
The Belgian missed a training session in the lead-up to the tie with Mourinho opting to play Willian instead, who laid on Samuel Eto'o's second goal in a 3-0 win.
Initial reports had suggested that Mourinho had fallen out with Hazard over the missed training session, but the Chelsea boss says he will return against West Bromwich Albion this weekend.
"On Saturday (against West Brom), he will be with the team," Mourinho said. He's a player who is a talent. On Saturday, he will be on the bench or playing.
"I don't want to lie. He's not injured. He forgot the time. Let's end the story. He's a kid, kids make mistakes and fathers they have to be clever in the way they educate their sons.
"He didn't play, he wanted to play. He's sad because he wanted to play. We won without him and Saturday, he's back. End of story."
Mourinho made six changes from the defeat to Newcastle United on Saturday and Chelsea made a marked improvement with victory putting them on the brink of the last 16.
Eto'o, who replaced the injured Fernando Torres, scored twice either side of half time before Demba Ba's late goal, to grab the three points.
The ex-Barcelona and Inter Milan forward had struggled since moving from Anzhi Makhachkala in the summer, scoring just once for Chelsea this season in his previous 10 appearances, and Mourinho is relieved to see a return to form.
"My favourite players are the players that win matches for me, not the ones that lose matches for me," said Mourinho.
"Samuel worked with me in the best season of my career [at Inter Milan]. We won everything. So he's in a good position."
"It was not a surprise for me that he arrived here not in the best conditions after two years in Anzhi. Now step by step he is going. He is 32 but he's a fit, slim guy. He's not a heavy body. He's intelligent, of course, and I think goals give confidence."