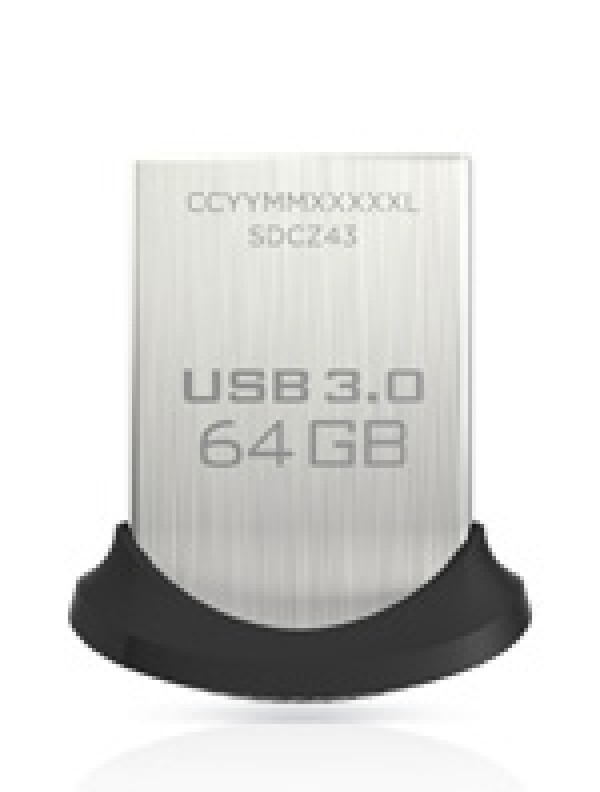 SanDisk has released a new USB 3.0 flash drive that is touted to be the world's smallest 128GB flash drive. This device, called the SanDisk Ultra Fit comes in four storage variants viz 16GB, 32GB, 64GB and 128GB.
On paper, SanDisk's latest miniature USB drive is custom-made for those who watch movies/videos and listen to songs when on the go.
This device can also be interfaced with in-car infotainment systems, TVs, and game consoles, apart from being used with notebooks and desktop computers.
The SanDisk Ultra Fit is priced at $120 (£79) in the United States and prospective buyers can navigate to SanDisk's official website to order the miniature flash drive.
Technical specifications of SanDisk Ultra Fit 128 GB flash drive
16/32/64/128GB: Transfer up to 10 times faster than standard USB 2.0 drives; up to 130MB/s read speed.

16GB: Transfer up to 5 times faster than standard USB 2.0 drives; up to 130MB/s read speed.


SanDisk SecureAcces software incorporated
RescuePRO file recovery software incorporated (one-year subscription offer)
USB 3.0 enabled (USB 2.0 compatible)
Dimensions: 19.1 x 15.9 x 8.8 mm; 0.75 x 0.63 x 0.35 in (LxWxH) – without cap
Operating temperature: 32° - 113° F (0° – 45° C)
Storage temperature: 14° - 158° F (-10° – 70° C).
SanDisk also states that users can transfer a full length movie to and from the flash drive in under 40 seconds which should give the multimedia-obsessed a lot to cheer about.
Apart from the US, SanDisk's Ultra Fit 128GB miniature flash drive is available for purchase throughout the world as well. Buyers can click here to determine their closest SanDisk retailer.